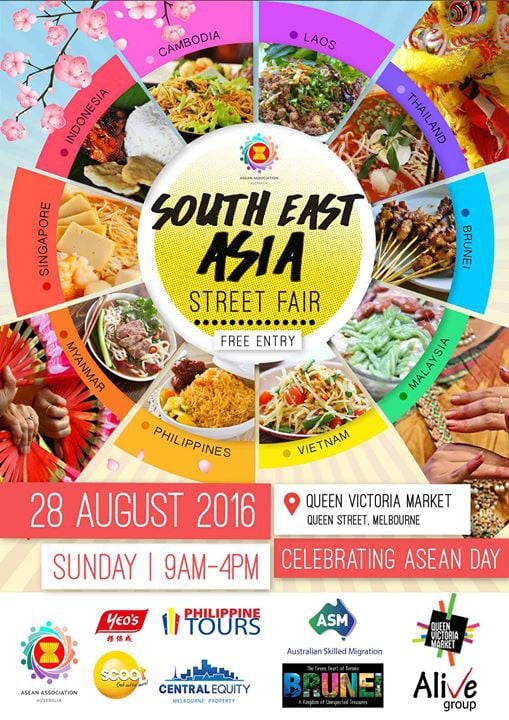 ASEAN Street Fair
Queen Victoria Market
Sun Aug 28th 2016 at 09:00
---
513 Elizabeth Street

,

Melbourne CBD -
https://www.myguidemelbourne.com/events/asean-street-fair
---
Queen Victoria Market
MAKE ENQUIRY
Event Details

Backed by popular demand from the friends of ASEAN, community leaders and businesses, the community celebrates ASEAN day.

ASEAN Day (officially on the 8th of August) is a day where ASEAN unites as one.

With the recent successful celebration of the 40th Anniversary of Australia - ASEAN relations, the community will once again unite to share the beauty, culture, food, friendship and trading opportunities in the 10 countries.

The festival celebrates the numerous cultures of the South East Asian nations. It also encourages the participation of numerous community groups living in Melbourne to celebrate the many joyous occasions celebrated in their own countries. There will be street food from many nations catered by melbourne's food industry. All restaurants are handpicked as they are the top of the line in this city.

There will also be activities for families, cultural and modern performances from all countries involved.

This event pays tribute to the following countries who make up of ASEAN and promotes peace, understanding among the nations and the world.

Representatives from Association of South East Asia Nations (ASEAN) countries:
#Australia: Department of Foreign Affairs and Trade
#Malaysia: Malaysian Community of Vic
#Indonesia: Konsul Jeneral Republic of Indonesia
#Vietnam: Vietnamese Community of Australia
#Thailand: Royal Thai Consulate Melbourne
#Cambodia: Mary Key - Representative
#Singapore: Jenny Chua - Singaporean Association
#Brunei Darulssalam: High Commission of Brunei
#Phillipines: Consul General of Phillipines
#Laos:
#Myanmar:
** FREE ENTRY **
Find directions with the handy #
mydestinationmelbourne
Google guide.
Fastest growing #guidetomelbourne