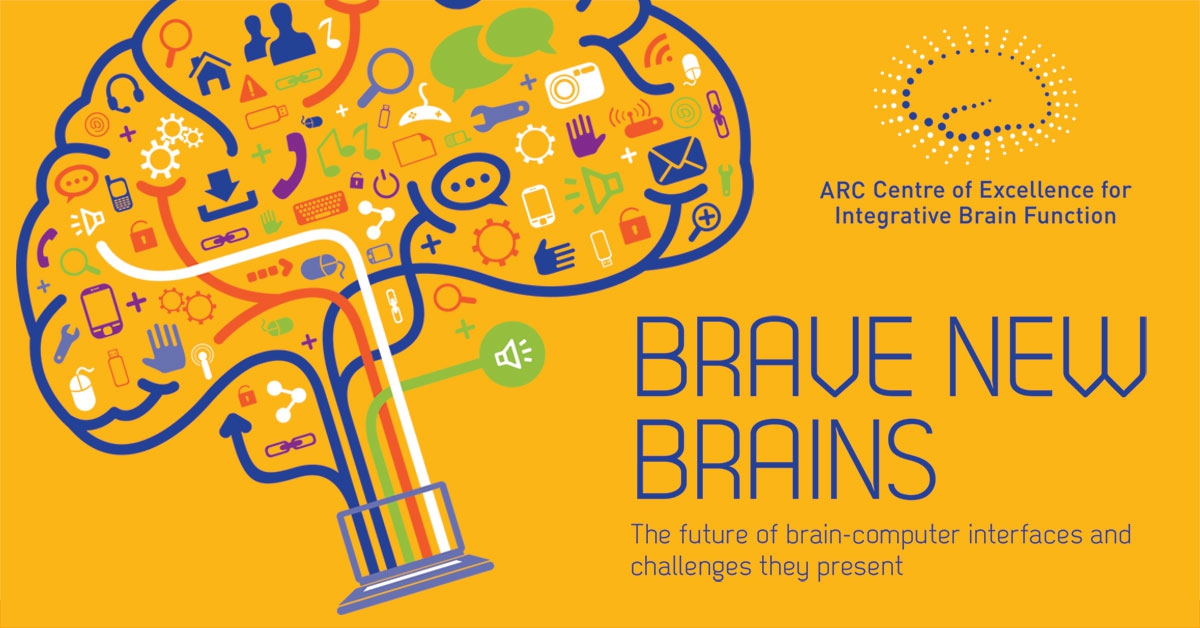 BRAVE NEW BRAINS
The future of brain-computer interfaces and challenges they present
Mon Aug 27th 2018 at 17:30 until 19:30
---
Melbourne
,

Entry 3

,

179 La Trobe Street

,

Melbourne CBD -
https://www.myguidemelbourne.com/events/brave-new-brains
BOOK NOW
Event Details
Advances in neuroscience, computer engineering and artificial intelligence are opening a new world that holds promise and challenges for scientists, philosophers and ethicists.
New technologies that connect brain activity to powerful computers have the potential to revolutionise medicine. Brain-computer interfaces (BCIs) may restore sight, improve mobility for people with spinal injuries, prevent epileptic seizures, and allow those who've lost the ability to communicate to converse again. Emotions, thoughts and behaviours may also be predicted, detected and altered by BCIs.
The ability to decode and influence brain activity presents ethical questions for society:
Who is responsible for the thoughts, intentions or actions decoded in a person's brain activity?
Who is doing the thinking in these instances?
Who has access to a patient's brain activity?
Are BCIs a new threat to privacy and the freedom of thought?
Is this just science fiction or issues we need to consider before BCIs are further advanced?
This
FREE
public event will bring together leading international and national scientists, engineers and philosophers to discuss the unique challenges posed by the brave new world of brains and computers.
SEATS ARE LIMITED.
Register by 20 August at https://bravenewbrains.eventbrite.com.au
Join us for drinks and canapes from 5.30pm with the event starting at 6.30pm sharp.
SPEAKERS
Guest MC - Lynne Malcolm, host of ABC Radio National's All in the Mind program.
Dr Hannah Maslen
Deputy Director, Oxford Uehiro Centre for Practical Ethics, University of Oxford, UK
Dr Maslen is a Research Fellow at New College and at the Oxford Martin School. She works on a wide range of topics in applied philosophy and ethics; from neuroethics, to moral emotions and criminal justice. She is a Principal Investigator on the Horizon 2020 BrainCom project, which aims to advance the basic understanding of speech networks in the cerebral cortex, and to develop rehabilitation solutions using innovative brain-computer interfaces. She leads the work package on 'Ethics, Implants and Society'. You can find more information about her on her website.
Prof Eric Racine
Director, Pragmatic Health Ethics Research Unit, Montreal Institute for Clinical Research, Canada
Dr Racine is Full Research Professor and Director of the Pragmatic Health Ethics Research Unit at the Montreal Clinical Research Institute (IRCM) with cross-appointments at Université de Montréal and McGill University. Inspired by philosophical pragmatism, his research aims to bring to the forefront the lived experience of ethically problematic situations by patients and stakeholders and then to resolve them collaboratively through deliberative and evidenced-informed processes.
Prof Jeffrey Rosenfeld AC, OBE
Director, Monash Institute of Mechanical Engineering
Senior Neurosurgeon, Alfred Hospital
Professor of Surgery, Monash University
Prof Rosenfeld is an internationally recognised neurosurgeon and is the lead clinician in the Monash Vision Group. The MVG is developing a bionic vision device to restore vision in blind individuals. This is an implanted wireless electrode interface with the brain which is an example of a brain-computer interface device. He has an interest in the technical, clinical and ethical aspects of brain-computer interfaces. He is a Fellow of the Australian Academy of Health and Medical Sciences and the Australian Academy Technological Sciences and Engineering.
Dr Isabell Kiral-Kornek
AI and Life Sciences researcher, IBM Research
Isabell received her Diploma in Electrical Engineering from Leibniz University of Hanover, Germany, focussing on signal processing and radio frequency applications, with a special interest in cochlear implants. She subsequently did a PhD in Biomedical Engineering at the University of Melbourne. As part of Bionic Vision Australia, her research was centred around finding novel stimulation strategies for retinal implant users. Isabell joined IBM in 2015. Her research interests lie in developing neural networks for biomedical applications and neural modelling.
---
More information: www.brainfunction.edu.au

Brave New Brains is brought to you by the ARC Centre of Excellence for Integrative Brain Function and the Australian Neuroethics Network.

Click

BOOK NOW

for tickets