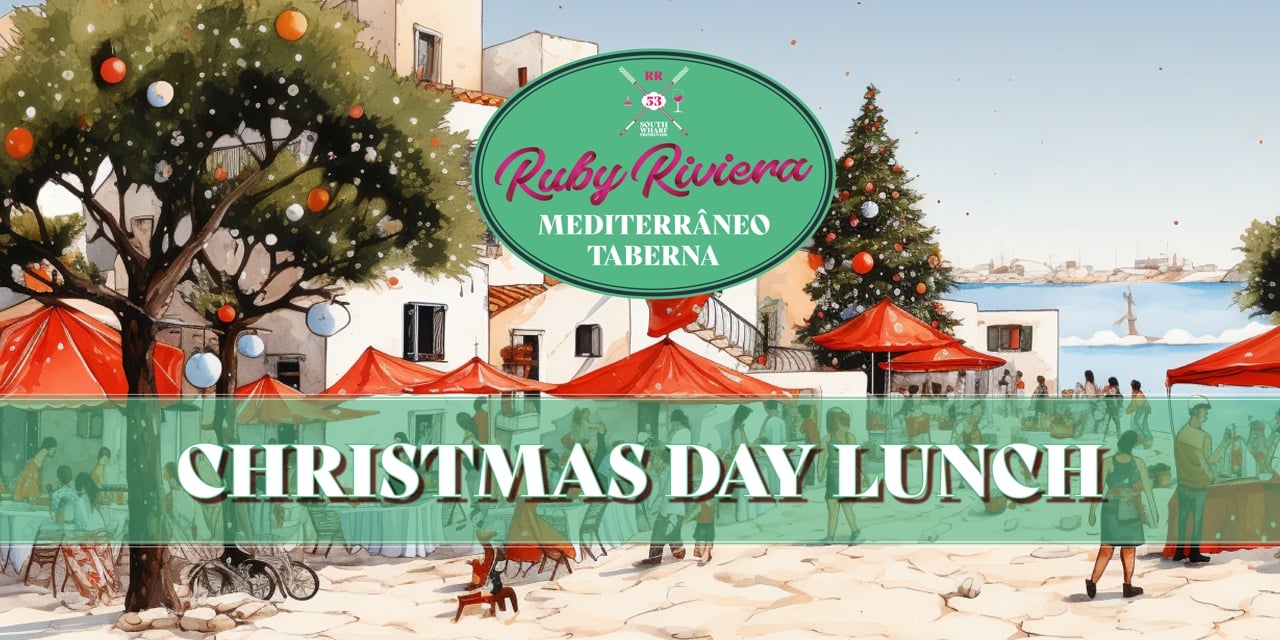 Event Details
Feliz Navidad!
Join us at Ruby Riviera, riverside in South Wharf Melbourne, for a Mediterranean-inspired Christmas Lunch sharing feast that you, your friends and family will love.
Come and celebrate Christmas Day in Melbourne with us at Ruby Riviera, where you can enjoy the festive atmosphere, delicious food and company of loved ones.
Our xmas menu features a selection of chilled seafood and delicious dips to start, followed by shared feasting boards with premium seafood and marinated meats, accompanied by salad and charcuterie stations. To finish, we have a La Dolce Vita dessert station where you can build your own cannoli!

PASTO ALL'ARRIVO
On Arrival
Prato de Molhos
A delicous spread of kefalotyri cheese, Yarra Valley goats yoghurt tzatziki and creamy taramasalata, accompanied by warm pita bread.
Mezze de Frutos do Mar
A sea of flavours presented in this seafood platter including Tasmanian pacific and sydney rock oysters with a yarra valley sparkling mignonette, house pickled calamari and local bay mussels alongside kingfish crudo, served with warm pita bread.
The vegan option for this course includes a selection of Mt Zero olives, chick pea & parsley falafels with hummus and wild rocket, marinated and grilled antipasti of artichokes, eggplant, red peppers and zucchini

PIATTO CONDIVISO
Shared Feasting Boards
Served with a curated collection of sauces, pickles, and condiments to elevate every bite. The vegan option for this course is an individually plated char-grilled cauliflower steak with a currant, kale, marsala, red pepper and mint salad.

Char-Grilled Roaring Forties Lamb Forequarter Chops
Succulent Tasmanian lamb chops marinated in a rich blend of Red Wine, fragrant Oregano, Garlic, Lemon, and Extra Virgin Olive Oil.

Italian-Seasoned 'Aqua Pazza' St Helens Swordfish
Italian coast inspired St Helens Swordfish, cooked to perfection in the "Aqua Pazza" style; poached in a lightly flavoured broth of tomatoes, white wine, garlic, and herbs.

Char-Grilled Free Range Portuguese Peri-Peri Chicken
Delicious free range birds eye chilli, garlic, lemon vinega and extra virgin olive oil marinated chicken char-grilled to perfection.

ESTACIÓN DE COMIDA
Stations
Queso y Charcutería
CHEESE & CHARCUTERIE STATION
An exquisite selection of artisanal cheeses, complemented by carefully cured meats, Mt Zero Olives and Antipasti.
Salada e Pão
SALADS & BREAD STATION
A tantalising array of salads ranging from Classic Greek to vibrant Panzanella, refreshing Orange an Avocado, the indulgent Watermelon and Feta and the timeless Caprese. Alongside, delight in oven-roasted seasonal vegetables and freshly baked Mediterranean style bread.
LA DOLCE VITA
Dessert

Buffet dei Cannoli
BUILD YOUR OWN CANNOLI STATION
Immerse yourself in sweetness with the Buffet dei Cannoli, where you can create your own delectable cannoli with flavours like Limoncello, macerated Christmas cherry and velvety chocolate, adorned with an array of delightful toppings.
Buffet di Sorbetti e Gelati
ICECREAM & SORBET BAR
A joyful selection of festive ice cream and vegan sorbet flavours from Serendipity, a sweet ending to your Christmas celebration.
IL PICCOLINA
Kids Under 12
Enjoy the full adult selection with the table or a choice from the following*
Swordfish Souvlaki​

Toasted pita, cheese, lettuce, cucumber, tzatziki on the side, fries.

Chicken Souvlaki​

Toasted pita, cheese, lettuce, cucumber, tzatziki on the side, fries.

Falafel Souvlaki​

Toasted pita, cheese, lettuce, cucumber, tzatziki on the side, fries.

Pasta

Spaghetti, meatballs, napoli, parmesan.

Char-Grilled Chicken

Fries, aioli.
Children are welcome to the Cannoli Station and Ice Cream and Sorbet Bar.
Bebidas
Drinks
Adults will receive a complimentary Christmas Spritz of Heering Cherry Brandy Liqueur, Cointreau and prosecco on arrival.
Children will receive complimentary soft drinks for the duration
Our full list of careful curated wine, beer and cocktails along with non-alcoholic options and Allpress Espresso will be available.
Please note that a 15% surcharge applies on public holidays.