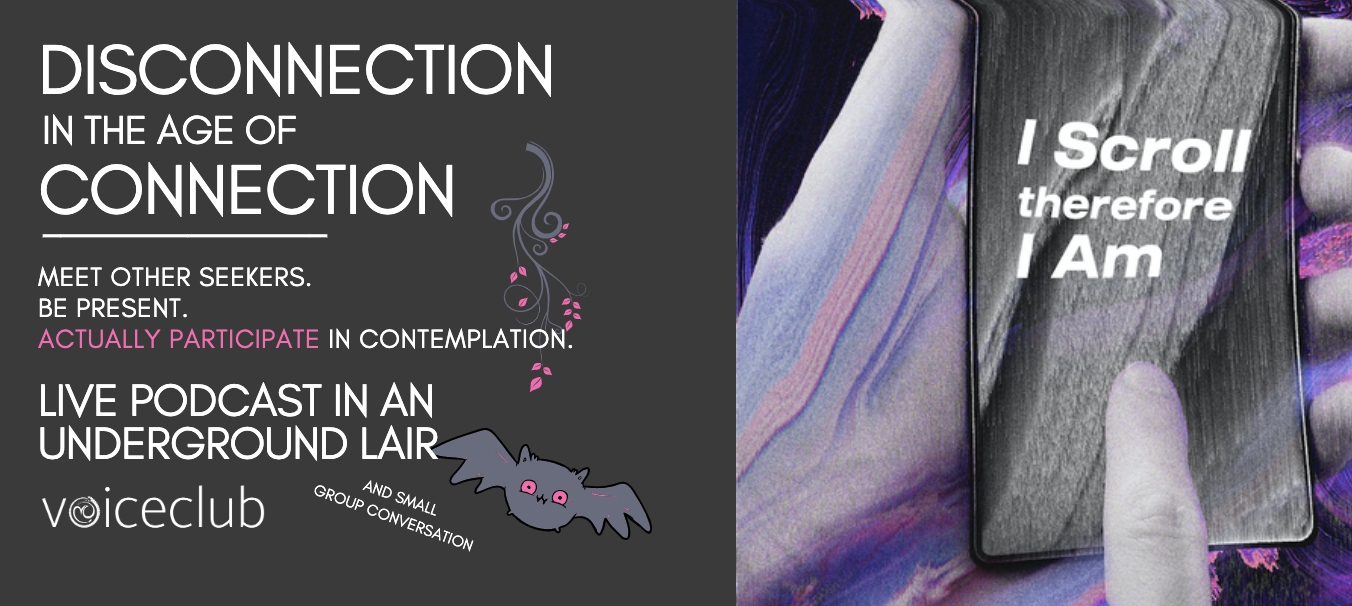 Disconnection In The Age Of Connection
Fitzroy
Wed Oct 9th 2019 at 18:45 until 21:00
---
Melbourne
,

10/65 George Street

,

Fitzroy

Melbourne
https://www.myguidemelbourne.com/events/disconnection-in-the-age-of-connection
BOOK NOW
Event Details
What is it to be connected? What is it to be disconnected? And have we fallen out of connection with nature?

How can we ground ourselves in a process of exploration and understanding, individually and collectively, so that we might make sense of these questions?

This is an evening of participatory contemplation.

One part live podcast recording in an underground lair with intimate surrounds. One part small group conversation where you are invited to participate.

**Why?**

Our purpose is to involve a small group of 30 in a meaningful evening of exploration: to unearth insight, explore new framings of problems, to connect, and to learn.

Joining Tim Adalin for this dialogue is Cameron Duffy.

**About Tim Adalin & Cameron Duffy**

Tim is a philosopher and psychonaut interested in meaning, wisdom, and the art of transformation. He is the founder and present host of Voiceclub (.com), a culture-making project, and explorer of participatory knowing practices.

Cam works as a dual diagnosis counsellor of men and women, as well as their families. He has an interest in human development, health, optimization, therapeutic growth and peak experiences. He also has a background and interest in philosophy and the evolution of consciousness.

**Possible points of discussion to be held in participatory consciousness include:**

- Identity and change
- Egoic and trans-egoic consciousness
- The relationship between nature and culture
- Synchronicity
- Inner development and outer development
- Knowledge and not-knowing
- Love and fear
- Transformation and growth
- These points may or may not come up as resonant on the evening. The intention is to follow the pulse of relevance, to meditate and contemplate, and to get in touch with the process of understanding.

**About the venue**

We're excited to have found a new venue to suit this intimate conversational format: Caz Reitop's Dirty Secrets (80 Smith St, Collingwood VIC 3066). Stone walls, cozy seating for 30, and an intimate underground vibe. ;)

**What to expect on the evening**

The running plan of the night is as follows:

- 6.45pm (or earlier) - arrive and enjoy the intimate, beautiful venue Caz Reitop's Dirty Secrets, perfect for small group conversations.
- 7:00pm - (official start) we'll take our seats downstairs in the basement for the event start
- Tim & Cam will dialogue for between 30-50 minutes, including audience Q&A, which may be conducted throughout.
- 8pm-8.10pm - intermission
- 8.10-8.50pm - small group conversation
- 8.50-8.55pm - close, reflection, meditation

At 8.55pm the event will be over and we will vacate the basement. There is a free stand-up comedy event happening from 9.30 onwards.

Upstairs at Caz are beautiful spots to continue the conversation.