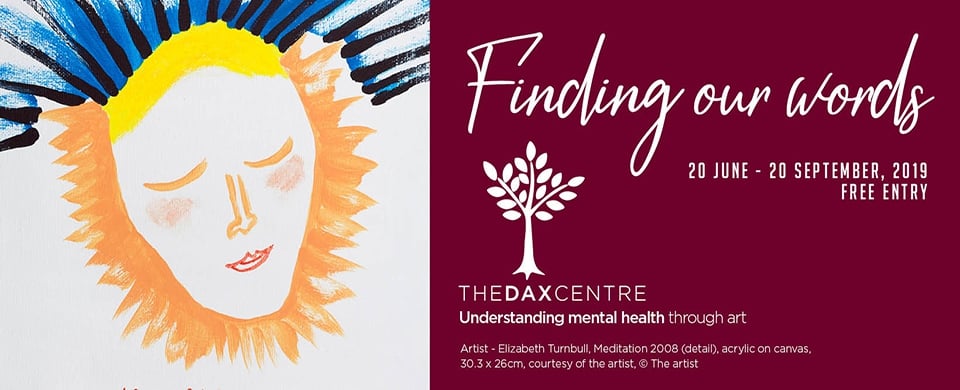 Event Details
Now at the Dax Centre in Parkville, this free-entry exhibition will showcase a collection of artworks that have been specially selected from the Cunningham Dax Collection – a collection of more than 16,000 artistic works produced by people with a lived experience of mental illness or psychological trauma.

The powerful exhibition will explore new possibilities of expression through a variety of artworks including; canvas paintings, watercolour, drawings, ceramic, poetry, video and audio as well as an immersive projection room.

Visitors will also have the opportunity to share their thoughts and feelings in the Poetry Forest – an interactive and suspended installation where everyone is encouraged to contribute to a community poem that will evolve and grow throughout the duration of the exhibition.

Throughout the exhibition, The Dax Centre will also host a number of public programs including:

• Poetry Reading (Thursday 4th July, 6-8pm), which will include a number of artists featured in the exhibition including; Sandy Jeffs, Tessa Gatt-Rutter and Gudrun Hinze.

• Open House Melbourne (Sunday 28th July, 11am-4pm). For the first time ever, The Dax Centre will open its doors for Open House Melbourne allowing visitors to enjoy an exclusive guided tour of Finding Our Words, a behind-the-scenes tour of the curatorial area and the opportunity to view additional works from the Cunningham Dax Collection.

Admission to Finding Our Words and its public programs is free. For more information, please click here - please ref

Opening hours: Every Wednesday – Friday, 12-5pm and Sunday 28th July, 11am-4pm.