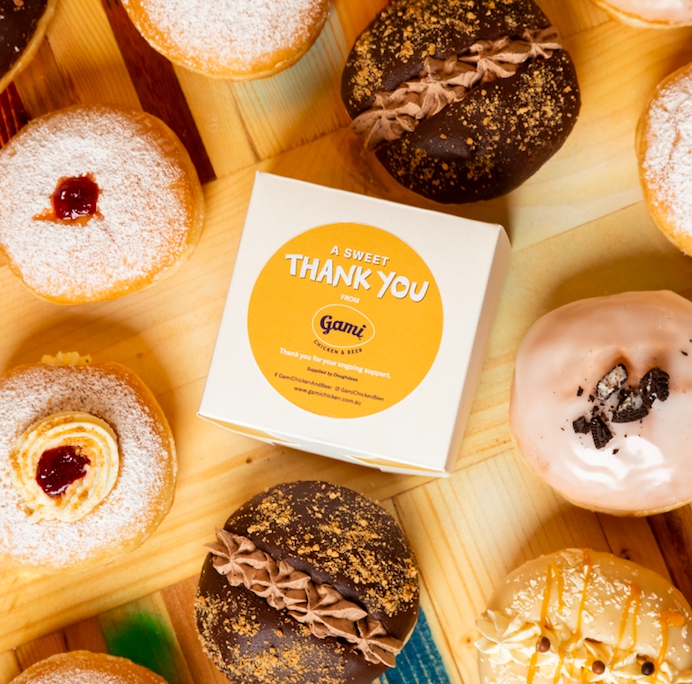 Event Details
For the very first time, Melbourne-born Gami Chicken & Beer is offering a dessert option for a very sweet reason.

From Tuesday, 4 August 2020, Gami will surprise and delight its loyal fans with 10,000 limited edition "Thank You" donuts, in appreciation of the support Gami has received from its community since the first lockdown. "During the first lockdown, we received overwhelming support from our Gami fans, whether it is a generous tip, a kind comment on social media, or still choosing Gami as their treat of choice during a tough time'.

True to our Korean heritage, we believe 'when support is shown to you, you return it tenfold'. That's why we decided to give away an exact ten thousand donuts to symbolise this tradition." "As we are in the midst of a second lockdown, being a Melbourne-born brand, we would like to show our support back to our community and the 'Thank You' donuts are a small gesture from us to show our appreciation." says Jun Lee, Founder and Executive Director of Gami Chicken & Beer.

Available to its Melbourne fans only, Gami sought the expertise of local dessert parlour, Doughdees Doughnut who specialise in 100% handcrafted donuts. The "Thank You" donuts will be available in two delicious flavours: • Golden Gaytime, a Cadbury choc ganache topped with crumbed Arnotts Malt O' Milk biscuit, split with a dela crisp buttercream. • Stairway To Heaven (Doughdees Doughnut's Signature donut) features pure Cadbury white chocolate ganache sprinkled with white flakes, split with white chocolate buttercream and finished with caramel-chocolate balls.

To ensure everyone is staying safe, the "Thank You" donut will be added to orders at random to surprise and delight customers. Approximately 50 donuts will be given away per restaurant, per day. The surprise & delight is expected to run for 10 days, available till stocks last.
For locations and how to get your free 'Thank You' donuts, click
HERE
(just type Thank You)