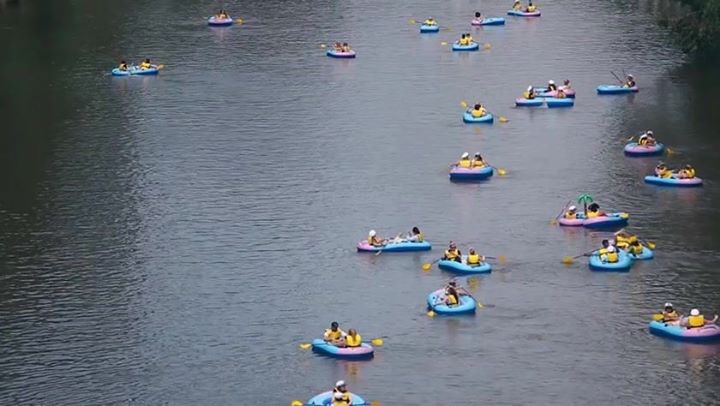 Inflatable Regatta
Yarra River
Sat Feb 10th 2018 at 10:00 until 06:00
---
Melbourne
,

Yarra Bank Reserve

,

44 Creswick Street,

,

Hawthorn
https://www.myguidemelbourne.com/events/inflatable-regatta-yarra-2018
BOOK NOW
Event Details
We're on for 2018!

'Get a friend, get a few or take it easy solo among the crowd all floating down the Yarra for 2 kms'.
It started as something different to do on a Saturday back in 2008 has become a big day to enjoy our river with thousands of others!
In 2015 we had a sudden influx on FB of people wanting to come. We left the event open by accident and it snowballed from there. We scrambled to get the forms done but didn't make it in time.
When 2016 rolled around we had got ourselves organised and it went ahead.
In 2017 there were 1700 people along for the ambient journey down the river.
For tickets and information, click the
BOOK NOW
button above.
Message us if you have any questions, the info below might answer them too
FAQs
Key things to know
- Ticket price covers it all, except drinks and food trucks at the end
- Depending on your technique it takes about 1 to 2 hours to get down the river
- Spectators, the Capital City Trail will serve you well, Great spots to see it all
- Got to be 12 years old or more to float. Under 18s must be in a double boat with an adult. Again, insurers
- Single boat weight limit is 90kgs, double boat 180 kgs (total)
- Bring a bottle for water. We're ditching plastic bottle, not good for the environment
- We've sold out in the last two years since it became a public event so best to get tickets ASAP
- Can't do BYO boats, the insurers won't allow it. We tried but the said no. We tried again and they said 'we already told you!' But if you have an Inflatable Regatta boat from 2017 bring it along and we'll pump it up again
What's included in the tickets
- boat for the day
- oars
- lifejacket
- waterproof bag for valuables
- a tote bag for each boat
- bag to collect any litter along the way
There's a best dressed comp so if you feel inclined...?
That's happening at the finish line.
Some changes from 2016 and 2017 events
- Boats are for the day, and extra to take home with the oars
- Bringing a boat from IR2017 is good, and it'll fit in with the new one.
See you there!