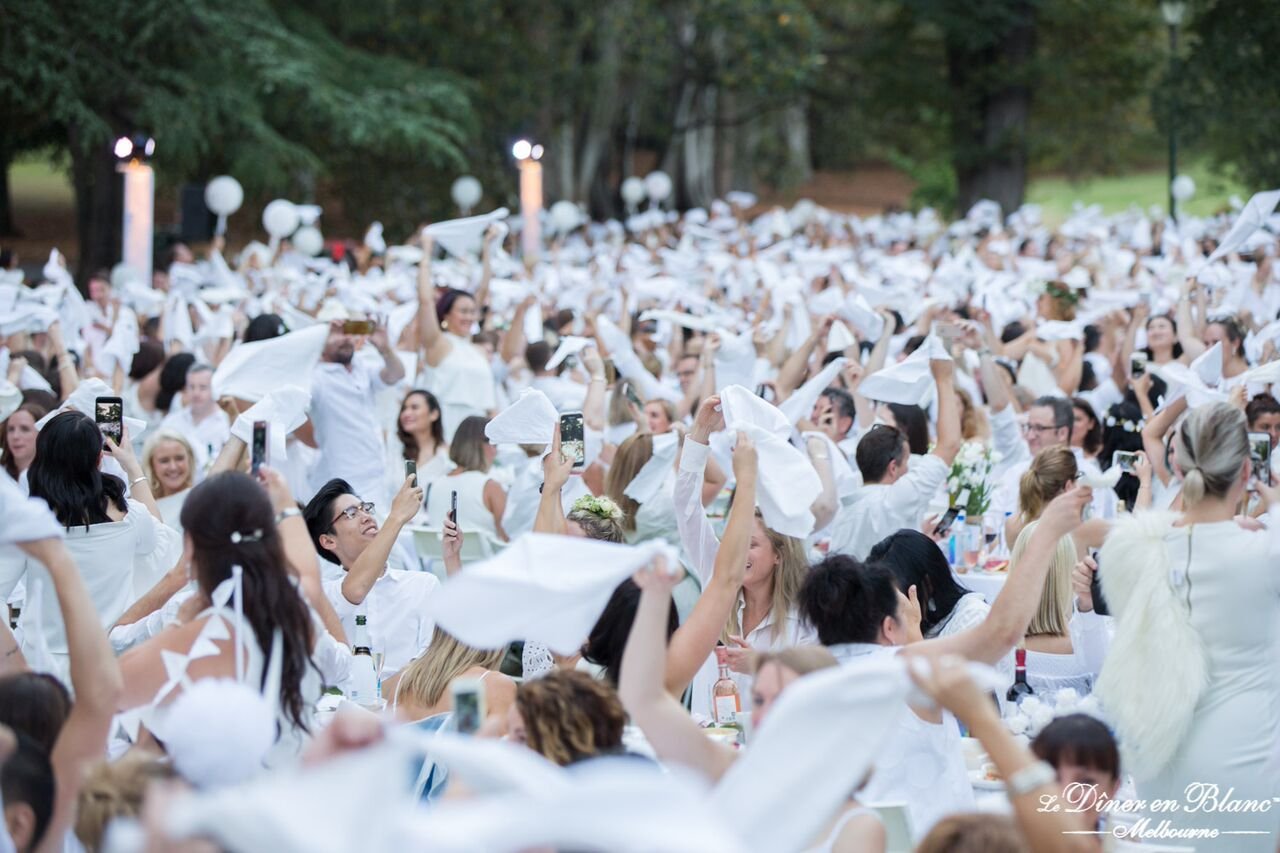 Le Dîner en Blanc
Sat Feb 24th 2018 at 18:00 until 23:00
---
Melbourne
,

Find out on the night

,

Melbourne

Melbourne
https://www.myguidemelbourne.com/events/le-diner-en-blanc-melbourne
BOOK NOW
Event Details
In 2018 the world's most chic picnic is returning to Melbourne on the
24th of February.
The lucky attendees from last year were transported to one of the most beautiful locations of Melbourne, the Treasury Gardens. Each year, the excitement surrounding this exclusive surprise event intensifies and so does the waiting list.
For the fourth consecutive year,
Le Dîner en Blanc
Melbourne is heading to another astonishing yet undisclosed site where over 2800 friends and friends of friends will be cheering along for another unforgettable evening. Melbourne's fashion elites and much-loved media personalities are already preparing for the iconic night.
Le Dîner en Blanc
is the world's largest and most chic picnic
à la française
, being part of the
soirée
is a magical experience like no other. No doubt Australian foodies and wine aficionados will love the journey.
To relive or discover the night of European charm and elegance, watch the 2017 Official Video of Le Dîner en Blanc – Melbourne.
Participation to this unique event happens in three stages: Phase 1 is for members who attended the previous year; Phase 2 is for new members who are referred by Phase 1 attendees; and Phase 3 is for people who signed up on the waiting list. Register now at melbourne.dinerenblanc.com/register.
Bystanders will witness groups of guests all dressed in white gathering all across the city. Guided by Dîner en Blanc volunteers, these groups will then converge on one of the city's most beautiful setting. Every guest brings their own gourmet feast, table, chairs and table setting. The evening is filled with visually breathtaking moments including the waving of a cloth napkin to mark the beginning of the dinner and the lighting of sparklers to let guests know they are now free to mingle and dance. At the end of the evening, guests will pack up all of their belongings, pick up all their litter and head back into the night, leaving behind no sign of their elegant revelry.
To maintain the uniqueness of
Le Dîner en Blanc
as well as staying true to tradition, guests must observe certain requirements and follow
a few
key rules
:
Once confirmed, each guest's participation becomes mandatory, regardless of weather conditions. This is a rain or shine event.
Dress code: elegant and white only. Originality is encouraged as long as it is stylish and tasteful.
Table setting: all white!
Champagne and/or wine. Beer and hard liquor are prohibited.

As per Victorian alcohol regulations, guests cannot bring their own alcohol. Guests wishing to enjoy some wine or Champagne, must reserve online through the Dîner en Blanc's e-store. However, guests are welcome to bring their own non-alcoholic beverages.

To ensure that the location secret is kept undisclosed until last minute, guests meet at assigned departure location and are escorted by a Dîner en Blanc volunteer.
In order to leave the event location as clean as when they arrived, guests are required to leave with all their belongings, leftovers and litter.

Guests must bring
A table, two white chairs, white tablecloth.
A picnic basket comprising fine food and proper stemware and white dinnerware.

A catered picnic basket option, which can be picked up on site, will be available for those who do not wish to pack their own. Guests wishing to do so must reserve online through Dîner en Blanc website during the initial ticket registration.
For full details on the event's rules and regulations, click the
BOOK NOW
button above.
First round of tickets going on sales on
23rd of January.
#myguidemelbourne
#dinerenblanc #debmelbourne2017 #dinerenblancmelbourne