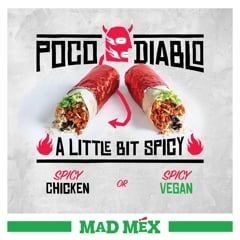 Event Details
To celebrate the launch of its new winter menu range, Mexican restaurant chain Mad Mex is searching for the Poco Diablo (little devil) in us all by asking amigos to anonymously confess something they did that was a little bit devilish!

Throughout July and August, amigos can choose to enjoy these limited-time-only flavourful fillings which are available across the Mad Mex menu. And if they're bold enough to admit how they're a bit of an "every day devil" via the Mad Mex facebook page, they can win $100 of Los Locos loyalty points to spend in restaurant.

The versatile spicy mix comes in chicken or vegan options and is available as a filling across the Mad Mex menu.

The new vegan spicy filling option is made with the recently-released "100% Not Chicken" range which, as the name suggests, can be easily confused with the real thing! This new plant-based protein has the texture and taste of chicken but is completely vegan/ vegetarian / gluten-free friendly.

Mad Mex has partnered with Simplot, to be the first quick service restaurant group in Australia to incorporate the new product into its menu offering. Despite the higher cost of the 100% Not Chicken ingredient, Mad Mex is making the vegan option available at the same price-point as the regular spicy chicken . This commitment to quality products and equality for flexitarian diners, ties in with Mad Mex's Fresh Fuel for Life brand philosophy which prioritises premium ingredients and fair pricing for all diet types.