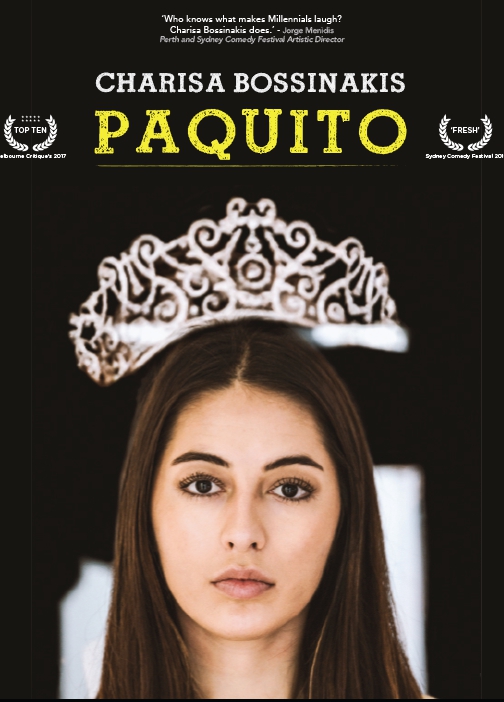 Paquito
Melbourne Comedy Festival
Mon Apr 8th 2019 to Sun Apr 21st 2019 at 20:30 until 21:30
---
Melbourne
,

6 Parliament Place

,

Melbourne CBD -
https://www.myguidemelbourne.com/events/paquito
BOOK NOW
Event Details
Failed Athlete Returns to Melbourne International Comedy Festival
from 8th April - 21st April
"Dead Weight." That was what Christ Grammar Coach Russel of the Immaculate Conception's B Reserve netball team called Charisa Bossinakis. She then dutifully quit her dreams of competitive sports and instead settled for comedy.
This show has nothing to do with any of that.
PAQUITO
is her second and much better foray into Comedy. It comes off the back of what was a very important year as she completed her Bachelor of Creative Arts course (the 'green on a four coloured pen' of degrees) and presented her debut hour -
BOSS
- at the Melbourne International Comedy Festival and Sydney Comedy Festival.
Bossinakis returns to the festival in 2019 with her second-hour show,
PAQUITO.
In this show she questions where it all went wrong. Could it be the fact that she can name each Kardashian but not all three branches of government? Or maybe that she completed a mime credit at university?
Click
BOOK NOW
to reserve your ticket today
WHAT THE CRITICS SAY ABOUT CHARISA BOSSINAKIS
"Who knows what makes Millennials laugh? Charisa Bossinakis does"
Jorge Menidis, Perth and Sydney Comedy Festival Artistic Director
"If Charisa Bossinkais were playing a sport,
she'd be on the
one to watch she can handle it
"
Chuck Moore Reviews
*SOLD OUT* Melbourne Fringe 2017*
*TOP TEN* Melbourne Critique's 2017*
*FRESH* Sydney Comedy Festival 2018*