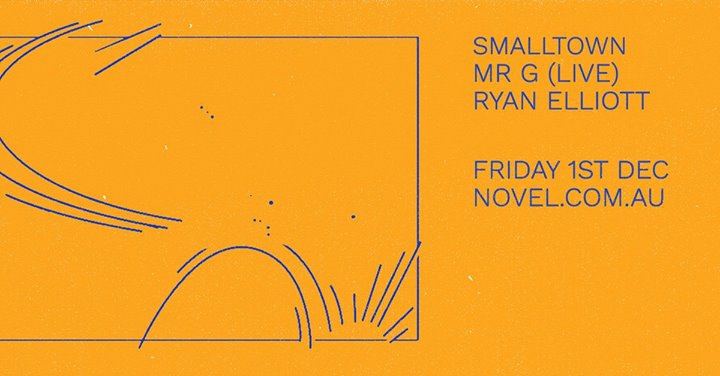 smalltown with Mr. G (LIVE) & Ryan Elliott
Brown Alley
Fri Dec 1st 2017 to Sat Dec 2nd 2017 at 08:00 until 06:00
---
Melbourne
,

585 Lonsdale Street

Melbourne
https://www.myguidemelbourne.com/events/smalltown-with-mr-g-live-ryan-elliott
BOOK NOW
Event Details
smalltown with Mr. G (LIVE) & Ryan Elliott
* Friday 1st December 2017 and Saturday 2nd December
Brown Alley Upstairs - Funktion One Official Sound
Click
BOOK NOW
for tickets
MR. G
Previously one half of 'The Advent', Colin Mcbean (Mr G) left the duo to pursue his own path. After some time out of the limelight Colin reappeared back on the scene with 2010's monster Album 'STILL HERE' on the mighty REKIDS imprint, hailed by the press as one of the hottest albums of that year by one off the house masters. Many remixes later and additional releases on BASS CULTURE, HUDDTRAX, AFRICASAFARI, MOODS AND GROOVES DETROIT AND HIS OWN LABEL, PHOENIX G, Mr G is preparing to drop his follow up album, again with Rekids called 'STATE OF FLUX'. Expect another journey into MR G's G FUNK SOUND and yet another monster release from the Label behind Nina Kraviz and Radio Slave.
RYAN ELLIOTT
'Most of all, what comes from the speakers, it has to be the right track at the right moment and it has to be played in the right way.' Nobody knows this better than Detroit's Ryan Elliott, his reputation as DJ, remixer and member Of the Spectral Sound A & R team has steadily grown behind the records for more than ten years, and has also been described as a 'DJ's DJ' and a 'true apprentice of a pure art form'. You do not get that kind of reputation, and Ellliott has earned it in every respect.
Influenced by the labels of his home town (Axis, Purpose Maker, M Plant and UR) and other international names such as Perlon, Playhouse and Kompakt, Ryan strongly refers to the application and function of the kick drum.
After Residencies in Ann Arbor's Goodnight Gracies and Detroits Shelter, Elliott began to play international clubfloors. From New York's Guggenheim Museum to Barcelona's sonar, Ryan always tailors his sets to the exact requirements, not least with the help of his huge plate collection. In 2009, he moved to Berlin to devote himself more intensively to DJing, his productions and the management of the Spectral Sound Roster. 'At first glance, Berlin and Detroit look different, but there is the same feeling, not only in terms of music, both cities have their edges and an honest heart,' says Ryan.
He has remained faithful to his style, bass-driven techno, reduced to the essence and conscientiously tuned to bring the audience to their senses. Now is the right time, here are the right tracks and Ryan Elliott is right where he should be.