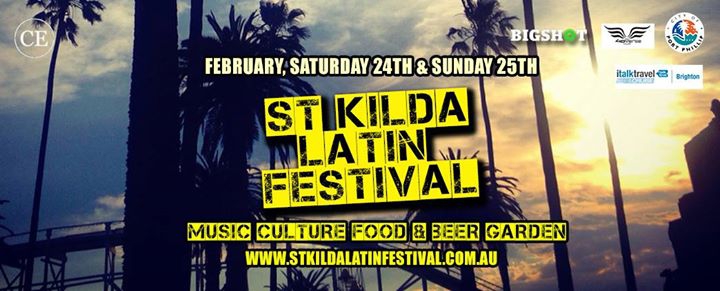 Event Details
St Kilda turns Latin for a whole weekend!!

St Kilda Latin Festival 2018 - Two Day Festival. 24th/25th February.

The St Kilda Latin Festival is a FREE event in the heart of St Kilda (O'Donnell Garden).

This Festival is Aiming to provide you with mouth-watering Latin American Food, Music, Performances, Art, Beer garden and more….

After the great success of the Melbourne Latin Summer Festival, the creators embarked on a new journey.

The creative concept and idea of the St Kilda Latin Festival is to provide a "stage" where you can relax, dance and enjoy.

All of a sudden you will feel in a beach environment, just as if you were in Cancun Mexico!
Latino American musicians and artists will be taking over St Kilda.
The St Kilda Latin Festival will be a Carnival full of life, Samba, Tango, Salsa, Reggaeton, Capoerira, Cumbia and Bachata!
*Exotic cuisine - Performances - Latin Beer Garden - Handcrafts and Art Exhibits*
Musica, Playa, Brisa y Mar!!!
Where:
O'Donnell Gardens – St Kilda
Next to Luna Park
Getting there:
Trams: 16, 3a and 96
Stop 138. Luna Park/The Esplanade (St Kilda)
Promotion of this event on MyGuideMelbourne sponsored by
Lona Tapas Bar, St Kilda