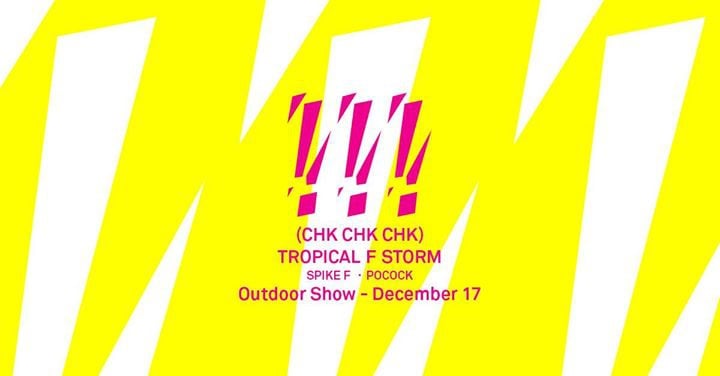 Summer Tones Chk Chk Chk Tropical F Storm Spike F Pocock
The Coopers Malthouse
Sun Dec 17th 2017 at 15:00 until 22:00
---
Melbourne
,

113 Sturt Street

,

Southbank

Melbourne
https://www.myguidemelbourne.com/events/summer-tones-chk-chk-chk-tropical-f-storm-spike-f-pocock-more
BOOK NOW
Event Details
Mistletone, Triple R - 3RRR 102.7FM and Shadow Electric present SUMMER TONES!

'Tis the season to celebrate 11 years of local label Mistletone with one of the world's greatest party bands, !!! (chk chk chk) in a super rad outdoor performance in the Malthouse Theatre courtyard, with an exceptional local lineup featuring Tropical F Storm (TFS), Spike F, POCOCK, and very special guests to be announced.

Revel in the golden blessings of summer in a stunning pop-up outdoor venue produced by team at Shadow Electric with a high-vibrational lineup of live bands and DJs curated by Mistletone in collaboration with Shadow Electric.

!!! (Chk Chk Chk) are one of Earth's great lives bands; something you have to experience in the flesh to truly comprehend. Designed for celebration and built for energy generation. Legends from the NYC underground, !!! left their contemporaries in the dust to sound more vital and irresistibly danceable than ever. (Fun !!! fact: frontman Nic Offer is his real name, and he was born on New Year's Eve.)

TFS Records (Tropical F Storm) is Gareth Liddiard and Fiona Kitschin (The Drones), Lauren Hammel (High Tension) and Erica Dunn (Harmony, Palm Springs). One of the most thrilling new bands of our times, articulating the dread of this historical moment with delirious swagger and aplomb. Their raved-about two limited edition 7's to date hint at a forthcoming debut album for the ages.

Inspired by love, obsession, addiction, transness and washed up 60s musicians who make overproduced comeback albums in the 80s, Spike F describes her current sound as "smackwave": a blend of late 80s new wave and late 70s post-punk, a dash of country music/singer-songwriter sensibilities delivered in Las Vegas Ballroom karaoke vocal style.

And Summer Tones disc jockey POCOCK -- dearly beloved broadcaster, promoter, astronomer and party boy -- will take us to the outer-realms of the Pocosmos between bands alongside Melbourne Dance Technique powerhouse Post Percy

Look out for announcement of more like-minded souls who will elevate SUMMER TONES to hyperkinetic levels...

Click BOOK NOW for tickets.