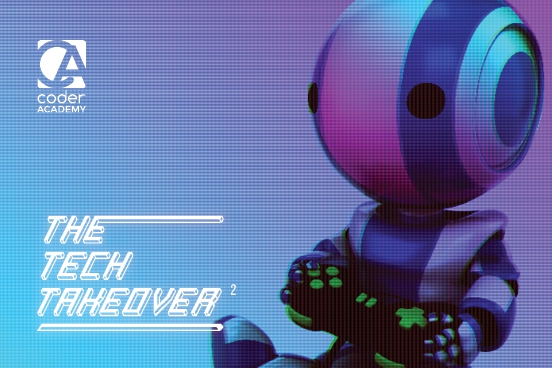 Tech Takeover
School Holiday Program
Mon Jul 2nd 2018 to Thu Jul 12th 2018 at 09:00 until 04:00
---
Melbourne
,

Level 13, 120 Spencer Street

,

Melbourne CBD -
https://www.myguidemelbourne.com/events/tech-takeover-school-holiday-program
BOOK NOW
Event Details
Come and join Coder Academy in partnership with the Academy of Information Technology (AIT) for fun, educational and engaging days full of coding, robotics, electronics, Virtual Reality and more! Explore the latest digitech toys while learning essential 21st Century skills. Ages 8-18 years.

Monday 2nd July - Thursday 12th July

For more information or to make a booking, click BOOK NOW button above
---
Monday 2 July- Become a Digital Artist: Create a variety of 2D digital art using Illustrator: Get your creative hat on with a 2D digital art workshop! Students will design their own character and Pop Art Proof. Digital designs will be printed to take home.

Tuesday 3 July - Create VFX in Film: Create a Visual Effects Film: Lights! Camera! Action! Students will use the Green Screen room to direct and produce their very own short film and learn to create engaging Visual Effects to incorporate into their film clip that they can then show off to friends and family.

Wednesday 4 July - Code Your World: Create your own personalised webpage with HTML & CSS - the language of the web. You will also learn how to create CSS animations!

Thursday 5 July - Immersive Robotics: Create, construct, and code! Bring Alpha One, Cozmo and Sphero robots to life by using basic programming with Artificial Intelligence (AI), droids, and sensors.

Monday 9 July - YouTube Superstar: Create cool content for your YouTube channel - Direct and produce your very own short film in the Green Screen room and transform your video with all the cool features from Adobe Effects!

Tuesday 10 July - 3D Character Creation - Humans or Monsters?: 3D Digital Art & Animation: Get your creative hat on with a 3D digital art & animation workshop! Create your own 3D character or creature and save your objects for 3D printing online. Then, use our assets to create a 3D animation. Students will design their own character using Photoshop & Wacom tablet & pens.
Wednesday 11 July - Gamers Unite: Game Design with Tinkercad and Unity: Transform from game player into game creator with Unity workshop! Students will hone their game development skills using Unity - the premier game development platform used by industry - to create a unique character and build a 2D environment for their very own game. Returning students will continue to further refine their existing game.

Thursday 12 July - Virtual Reality Experience: VR Game Design: Dive into Mixed Reality Game Design! Our popular school holiday workshop allows students to bring their emerging tech ideas to life. Students will create a game environment and design their ideal character to be demoed using Windows ACER VR headsets.
---
Our Philosophy
We pride ourselves on our ability to cater to students who are racing ahead, while supporting those who need more time to practise their skills. We aim to help students better understand the technological tools they have at their disposal, and how they can create rather than simply consume. Students are encouraged to adopt an experimental mindset, and think 'What if?' We believe that people with unique interests learn to code for different reasons, and there are many ways to engage kids with technology in a way they find exciting and encouraging.
Prerequisites:
Absolutely none!
Skill level:
- Beginner or intermediate
- 8 to 18 years old
- Participants will be grouped according to age.
What to bring?
Just bring a packed lunch and water! Alternatively, with parental permission the students are able to walk across to the Spencer street DFO for lunch. Be ready to have fun and learn at the same time!