Ski Resorts in Australia
Family Fun
Snow fun 3 hours from Melbourne
For most people around the globe, Australia brings to mind images of barbeques, surf boards and kangaroos bouncing around in the hot desert sun. However, Australia is actually home the world's oldest ski club in the gold mining town of Kiandra. Thankfully, since the gold rush skiing in Oz has become much more developed, the country now provides some of the best ski resorts in the southern hemisphere. With ski-in, ski-out accommodation and world-class facilities located just hours from the sweltering city centres, these resorts are a prime location to visit all year round.

Driving distances and road routes from the city:
Lake Mountain 110 kms to the east, 2 hours drive
Mt Baw Baw 160 kms, 2 1/2 hours drive
Mt Buller and Mt Stirling 250 kms, 3 1/2 hours drive
Hotham and Falls Creek - Far north-east, 370 kms, approximately 4 1/2 hours drive
My Guide Melbourne partners with selected snow tour operators for guided tours.
Click on the links for details and book when ready
* Mount Buller Snowfields Full Day Trip
* Mount Buller Snow
* Lake Mountain Snow Experience
* Mount Buller Snow Play Fun
* Lake Mountain Snow Tour
* Scenic Mt Buller Snowfields Tour with Return Chairlift Ride
Falls Creek
High up, adjacent to the breath-taking Bogong High Plains, is the beautiful Falls Creek resort. The largest alpine ski resort in Victoria, Falls Creek has a skiable area of a whopping 450 hectares. The ski-in, ski-out town is completely self-contained with everything you could want from bars, restaurants, schools and supermarkets, located right at the base of main runs. With fewer crowds than most resorts and wide long runs this is a great spot to help you find your ski legs as a beginner. There is plenty to do with nightly shows, snowman building, tobogganing and snow tubing, making it a great place to keep the kids entertained. Falls Creek is also the only place in the Australia where you can try the ludicrously fun snowbiking, where the frames are mounted on skis instead of wheels. Group tours are wickedly entertaining and worth every cent to ride this crazy contraption.
Besides the winter activities there are lots of things to do in Falls Creek all year round with a myriad of waterfalls, water sports and trails to follow. Take a hike in the surrounding national park and discover the historic homes of the Cattlemen. Built over a century ago, these huts are a testament to the hard lives of the pioneers who worked this land.Â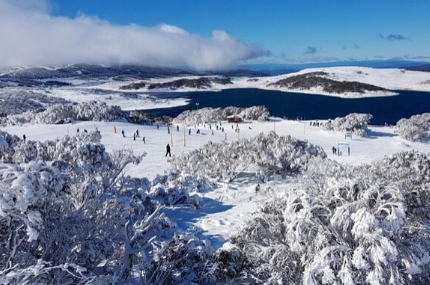 Latest snow report for Falls Creek
Mount Buller
The closest resort at just three hours drive by car, Mount Buller is ideal for weekend ski visits or day trips. Perched on the very crest of the white peak, the mountain resort has the biggest lift network in Victoria, with over 22 lifts capable of carrying 40,000 people an hour. There is a range of well-groomed runs to suit all abilities, with beginners usually ending up on Bourke St, while advanced riders select Black runs like Chamois for a challenging run on mogul terrain. We would recommend beginners to visit during the springtime as it is much cheaper, has fewer skiers and mild snow conditions perfect for learning to ski.
Alternatively, the face of mountain provides an opportunity for braver explorers to do some ice climbing, with heart stopping routes ranging from 10 to 100 metres up icy precipices. During the warmer months Mount Buller goes two-wheel crazy with regular mountain biking competitions, new off-road trails and some testing cross country trails.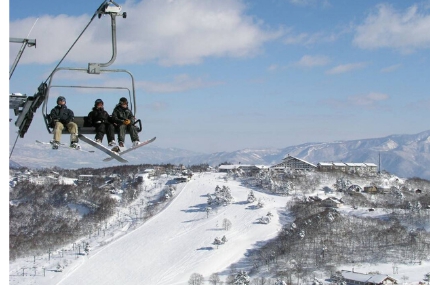 Mount Hotham
With the highest recorded snowfall in Victoria for ten years, due to its high altitude and southern location, Mount Hotham has earned its name as the powder capital of Australia. The slopes are usually less crowded, as it is further away from Melbourne than most mountains, leaving you more breathing room. While the beginner slopes have gentle slopes that are good to practise on, Mount Hotham is best known for its Black Diamond trails. Steep, adventurous terrain with halfpipes, natural gullies and tree runs, the ski conditions on these high grades routes are designed for the more experienced rider.
The resort has been picking up some early snowfall this year and a few of the lifts are already open including the Big D. Mount Hotham have also updated the snow pass system with brand new gates that automatically scan as you pass, allowing for more time on the snow and less time in queues. A visit in the summer season allows you to take in the invigorating fresh mountain air, with bush walks and motorcycle trips around the beautiful natural scenery all at your fingertips.
As the sun sets over the Australian Alps and a beautiful purple twilight graces the sky, you can relax in the mountain top bars, looking back on an amazing day spent riding through some of the most stunning natural scenery in Australia.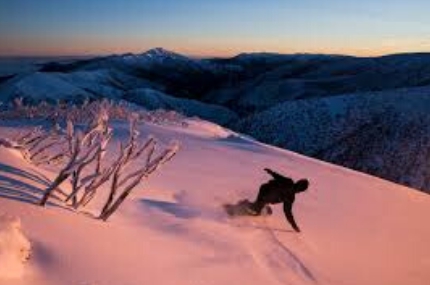 Victorian Daily Snow Report ... Please click here