Events in Melbourne
Melbourne, the event capital of Australia and there's always something to suit all tastes going on whether it be music concerts and theatre through to sport and fund raiser events. From the specialist interest to the many festivals and exhibitions.

There's also localised restaurant events and special offers 🍽️ to promotions and of course, wineries. 🥂🍷

Our events calendar is easy to use and to see what's happening in the city and along the Peninsulas. Not only information about the events but where applicable, direct links to on-line ticketing via the BOOK NOW button.

New events are sent to us every day so it pays to check out what's going on and create a list of your faves then share with friends on the My Guide Melbourne 'Create your Guide' feature.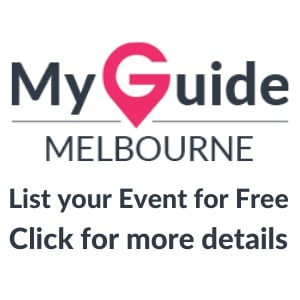 Conditions apply
🎁🎄🎅🏻Make a magical Christmas for someone special with gift
vouchers to Melbourne's best magic show. An unforgettable experience 🎅🏻🎄🎁



Our Top Experiences and Tours in Melbourne:
If youʻre booking your trip to Melbourne last minute, we have you covered. Below are some of the top tours and experiences!

If you are a business in Melbourne and have an event to promote you can do it on My Guide Melbourne at no cost.

Submit an Event for FREE