Events in Melbourne
Melbourne, the event capital of Australia and there's always something to suit all tastes going on whether it be music concerts and theatre through to sport and charity events. We try to feature the not-so-mainstream events too, from the specialist interest to the many festivals and exhibitions. There's also restaurant events, promotions and of course, wineries featured. Our events calendar is easy to use and to see what's happening in the city and along the Peninsulas. Not only information about the events but where applicable, direct links to on-line ticketing via the BOOK NOW button.

New events are sent to us every day so it pays to check out what's going on and create a list of your faves then share with friends on the My Guide Melbourne 'Create your Guide' feature.

Got an event going on? A new show? a New menu? Theme night perhaps? .. whatever it is, send it in and we'll be pleased to consider it for inclusion on our guide.

List what you're doing with us today* and share the news with our users.
Simply click
HERE
, select the option you want (FREE is on the left).
Fill in the details and send. 👌😀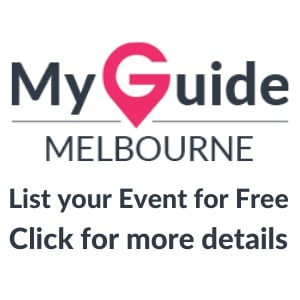 *3rd party communication organisations, PR companies, local authorities (except events related to community safety) are restricted to a maximum of 3 free event listings per calendar month, both in number of submissions and month in which events occur.
Industry rates apply on 4th and subsequent event listings in a single calendar month.
Events must be relevent to our primary objective as a tourist and traveller information source and events submitted that don't meet this criteria will not be considered for inclusion in our guide.