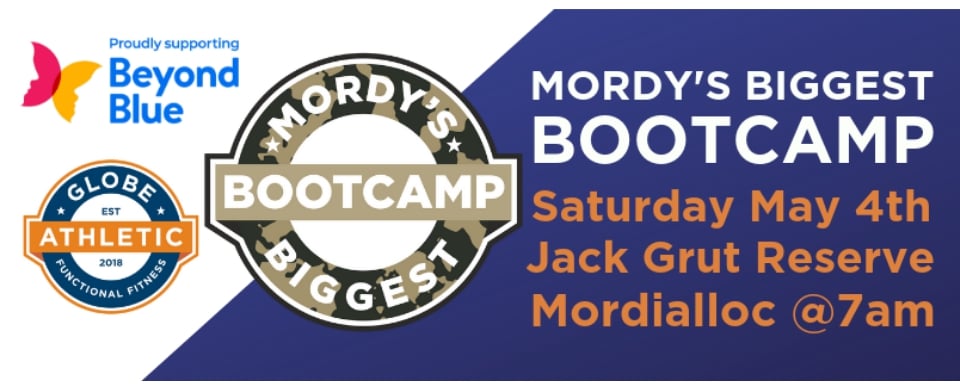 Event Details
Saturday 4th May - Mordialloc
The biggest ever BOOTCAMP fundraiser is coming to Mordy for the very first time!
The legends behind "MORDY'S BIGGEST BOOTCAMP", Globe Athletic, have set a goal to raise more than $5000 for Beyond Blue to highlight the connection between mental health, wellbeing and physical health.
Where you come in! Jump into the fresh air and join us? For only $25 with free breakfast thrown in, you'll experience the most fun filled fitness training hour ever!

Plus, that warm fuzzy feeling knowing you are helping to raise much needed money for Beyond Blue.


As well as raising funds, this incredible event will also feature a world record attempt for the most people in a joint boot camp session! This is a bit of fun, as the most important thing is for people to come together as a community, get active and help spread the message about mental wellness.

This is an all ages, all fitness levels event, with four of the most talented coaches guiding you through. The awesome DJ Dee will be spinning the tunes to keep you moving.
Make it a family morning out, bring the kids, come with a group of mates, even bring the dog along! Finish it off with a coffee, and a delicious free breakfast across the road at Globe Athletic.
A huge thanks to all of our amazing sponsors, for making this event possible.
All proceeds raised will go directly to Beyond Blue.
Invite your family and friends and share this exciting event. #Mordysbiggestbootcamp