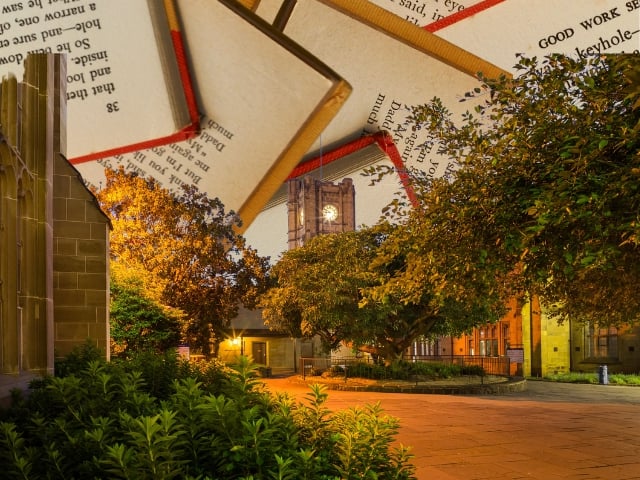 Celebrating ten years of 10 Great Books
The University of Melbourne
Wed Apr 5th 2023 to Thu Nov 30th 2023 at 09:00 until 17:00
---
Melbourne
,

University of Melbourne

,

Parkville

,

Parkville
https://www.myguidemelbourne.com/events/celebrating-ten-years-of-10-great-books
BOOK NOW
Event Details
Melbourne's favourite book club will return for its tenth year in 2023, with a new booklist and some exciting new features. From Tolstoy to Antigone, it's a line-up you won't want to miss.

In 2023, the Faculty of Arts at Melbourne University is delighted to be working with the State Library Victoria to bring subscribers added value and exclusive content, including in-person activities.

Book list and program schedule for 2023
Our book list for 2023 spans countries, cultures and millennia. You'll broaden your perspective as you encounter diverse voices on the issues that define our past and will shape our future – including gender, race, class and community.

February: Leo Tolstoy, Anna Karenina, 1878
A passionate love story, a family saga, and a conversion narrative – all set against a powerful evocation of pre-revolutionary Russian society and its uneasy social, cultural, religious, and economic politics.
March:
Harper Lee, To Kill a Mockingbird, 1960
One of the most enduringly controversial novels of twentieth century American literature, the characters of Scout, Atticus Finch, and Tom Robinson remain totemic of a nation struggling with economic depression and racial injustice.
April:
The Tibetan Book of the Dead (Bardo Thodol)
A comprehensive guide to the dying process that articulates Buddhist views on the nature of reality and human consciousness, while also offering empathetic, practical assistance to the dying and bereaved – and indeed, to the dead.
May:
F. Scott Fitzgerald, The Great Gatsby, 1925
This masterpiece routinely tops lists of the greatest American novels ever written. But why? What makes this brief novel about an adulterous love affair – and about dreams, disillusionment, and power – among the super-rich in jazz-age New York so transcendent?
June:
Kim Scott, Benang: From the Heart, 1999
This Miles Franklin Award-winning novel focuses on the history of the forced separation of Aboriginal children from family and community in Western Australia during the twentieth century in a story that is simultaneously sad, humorous and clever.
July:
Shirley Hazzard, The Transit of Venus, 1980
This beloved Australian novel charts an intimate story of two orphaned sisters with a backdrop of planetary scale. Watch the fateful moments of their youth unfold into tangled futures across decades and continents.
August:
Sophocles, Antigone, 441 BCE
This Ancient Greek play is a devastating battle between two strong-willed individuals: Creon, the king of Thebes, and his niece Antigone who, even in the face of death, chooses her sisterly duty over the law.
September:
Sylvia Plath, The Bell Jar, 1963
A subversive semi-autobiographical novel whose reception and cultural resonance have always been inextricable from the life and notorious death of its author. Shockingly frank in its depiction of mental illness and studded with Plath's vivid poeticism, the book is an unorthodox narrative of a female coming of age.
October:
David Malouf, Remembering Babylon, 1993
One of David Malouf's most celebrated works, this novel follows the story of Gemmy, a confounding 'in-between creature' whose liminality explores the deep anxieties of racism and the Australian settlers' experience of exile in an unfamiliar landscape.
November:
Miles Franklin, My Brilliant Career, 1901
Written when Miles Franklin was just 19 years old, this classic Australian novel retains an impressive relevance for contemporary readers, with its distinctive voice, critical self-referentiality, and proto-feminism revealing Franklin as a writer of precocious maturity and insight.