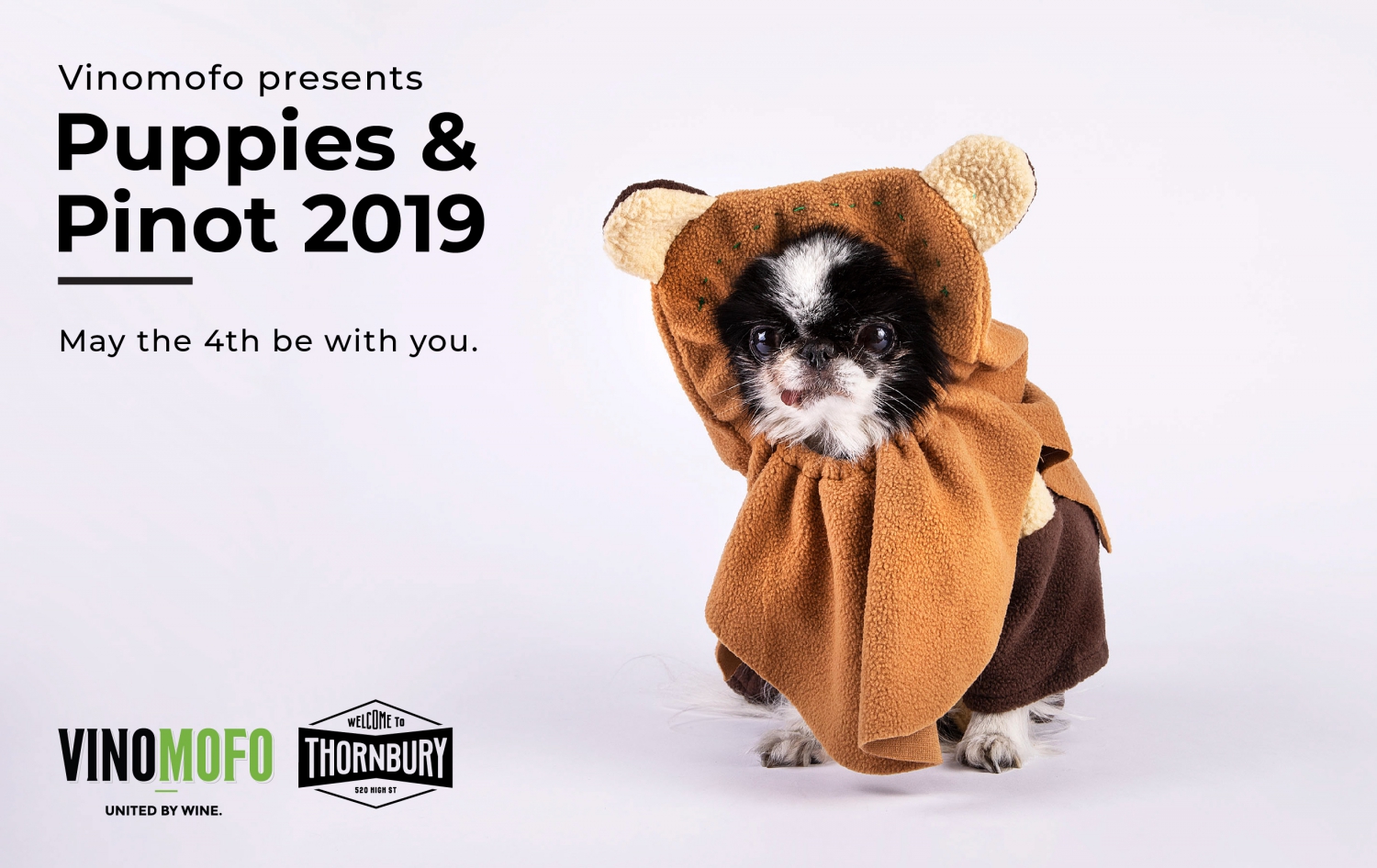 Event Details
Wine and supporting Forever Friends Animal Rescue ... Vinomofo's Puppies & Pinot event is back and it's bigger and better than ever.

We'll be taking over Welcome To Thornbury and serving up an experience that combines all the good things in life – puppies, wine, WINESCREAM, Star Wars, dog-friendly pinot noir and food trucks.

We'll also be taking over Welcome To Thornbury's bar to serve up our epic collaboration series wines (don't stress beer lovers, there will be non-vino drinks on the menu as well).

..and wait, it gets better. We'll be serving up pinot winescream (yep, wine + ice-cream = heaven!) for a donation (with all proceeds going to our friends at Forever Friends Animal Rescue) and selling takeaway bottles.

Your furry friends will be treated to dog-friendly pinot and healthy treats from The Canine Wellness Kitchen, puppy wading pools and lots of epic dog stalls so you can shop up a storm.

This year's event also has a Star Wars theme. We'll be hosting a costume competition, so make sure you dress up your pup in their most creative Star Wars costume. We'll have a 'Best Dressed' (as judged by our panel) and 'People's Choice' Award - winners will take home a case of Vinomofo wine and doggy goodies.

On the day, we'll be donating all of the winescream sales on the day to Forever Friends Animal Rescue, a charity run by animal-loving volunteers who help rescue animals from death-row and find them loving homes. The Forever Friends Animal Rescue team will be asking for a gold coin upon entry to continue the amazing work they do.

So, if you missed out last year, now's the time to redeem yourself! Grab your pup, grab some mates and come enjoy May the 4th with Vinomofo and Welcome to Thornbury.

IMPORTANT INFO:
- All dogs must be on a leash at all times
- Children and dogs must be supervised around each other at all times.
- All dogs must be well socialised and fully vaccinated for entry
- Dogs must be free of illness and disease
- You are fully responsible for your dog and their actions
- You must clean up after your dog
- All dogs must be treated humanely

Find out more about Forever Friends Animal Rescue:

Please note that Welcome to Thornbury is open until 11pm but we'll be closing the Vinomofo bar at 7pm.