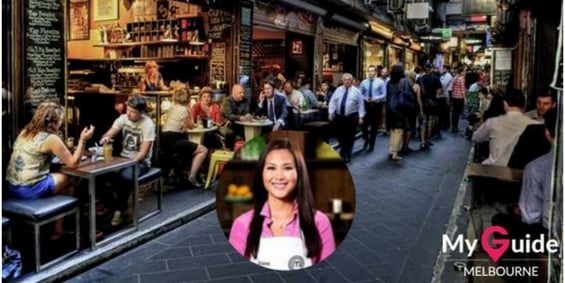 Eat and drink Melbourne
Food & Drink
Masterchef Winner Diana Chan shares her thoughts
Melbourne, boasting a proud multicultural heritage, it's not that hard to understand that it is considered to be Australia's unofficial capital when it comes to coffee and food, with over 3000 restaurants, cafes and bars boasting approximately 70 different ethnic cuisines to satisfy the ardent connoisseur.
My Guide Melbourne chatted to the 2017 Channel 10 Masterchef winner,
Diana Chan
and sought her opinion on what she would recommend for a single day's dining and relaxing in the Nation's gastronomic and coffee obsessed capital.
This is just a selection of Diana's personal favourite hang-outs but as she says, in Melbourne, you really are spoiled for choice and so difficult to choose that the only way to decide your own, is to get out there and try them.
Melbourne and true to form, coffee has to be somewhere in the morning's agenda and on Little William Street,
Patricia Coffee Brewers
is the 'hang out'. This almost 'hole in the wall', 'standing only' coffee stop is a hidden gem and well worthy of a place in Diana's list.
My Guide Melbourne checked it out and found the atmosphere to be friendly and welcoming with attentive staff serving beautiful coffee to what was a packed house. Clearly, it has many regular clientelle and this is definitely up there when it comes to great coffee, atmosphere and service.
Breakfast, brunch or a boozy lunch and it's down to the banks of the mighty Yarra River to ever popular
Arbory Bar and Eatery
, surely one of the longest bars in the world. When it comes to location, it doesn't get better than this and it's a great spot for people watching and chillin' combined with a great menu selection. Always popular and easy to get too right behind the iconic Flinders street Station with bar seating, attentive staff and easy to just indulge in the Southbank vista while catching some 'rays' ... Melbourne weather permitting of course.
If it's cocktails before dinner, then, unsurprisingly, Diana opted for
Lui Bar
high up on the 55th floor of the
Rialto Tower
. With awesome views over the city, this is a
Shannon Bennett
establishment and with his mentoring support during the Masterchef challenges, only adds to the reason it has to be one of Diana's selected 'go to' places.
Across the CBD for dinner and a number of options in close proximity to each other with different tastes including
Gazi Restaurant
from the restaurant stable of Masterchef host
George Calombaris
. Also getting a mention from Diana was
Tonka
, down in Duckboard Place, one of Melbourne's famous graffiti
Laneways
. Out on Flinders Lane is
Cumulus Inc
, a 'hatted' restaurant featuring in The Age Good Food guide for 8 consecutive years, it's no surprise this featured in Diana's selection.
If you're taking time out to explore the culinery offering that makes Melbourne such a food-lovers paradise, you really are spoiled for choice and everyone has their favourites. ... and the only way to find a favourite, is to sample them all. We hope Diana's dining suggestions plus some of her own delicious and tantilising cuisine as seen throughout the 2017 Masterchef competition have given you some inspiration to indulge in trying some of the fabulous restaurants, cafe's and coffee shops of Melbourne.
Big thanks to #dianachan and congratualations on winning the coveted Masterchef title.
Follow Diana on her Instagram page via this link
https://www.instagram.com/diana.chan.au/
Written by:
Cliff Cornell
PUBLISHED: Apr 9th 2020