The Top Food to Taste in Melbourne
Arts & Culture
It is no surprise that with so much to show off Melbourne hosts a variety of food-related events.
Our Top Experiences and Tours in Melbourne:
If youʻre booking your trip to Melbourne last minute, we have you covered. Below are some of the top tours and experiences!

Melbourne is one of the great Australian cities when it comes to cuisine, and one thing that really sells the city is its food. This is not only evident in Melbourne's local produce but also in its vast range of markets, restaurants and gourmet events. You can travel the culinary world via your plate with the city offering an eclectic mix of cuisines from all around the globe. From local produce to something a little more exotic Melbourne has it all, which is exactly why gourmands love the city so much. Influences from Europe, Asia, the Middle East and Africa have all been stirred into the city's cooking pot, resulting in a unique blend of components and flavours. You can find this wide variety of influences amongst the markets and restaurants of the city. The Queen Victoria Market, South Melbourne Market and Prahran Market are amongst the favourites, with Federation Square, Southgate, Crown Casino and ST Kilda all making excellent restaurant precincts.

It is no surprise that with so much to show off Melbourne hosts a variety of food-related events, with the Melbourne Food and Wine Festival seeing thousands gather to sample some of the delectable dishes on offer. The Food and Wine Festival is a 17-day event that showcases a mouth-watering array of local and international foods, setting out to enforce Melbourne as the food capital of Australia. The festival includes a range of markets, restaurants, master classes, family-friendly activities and the infamous World's Largest Lunch. Here is some of the best gastronomy available in Melbourne, which you can expect to discover at the festival, and tips on where else to find it: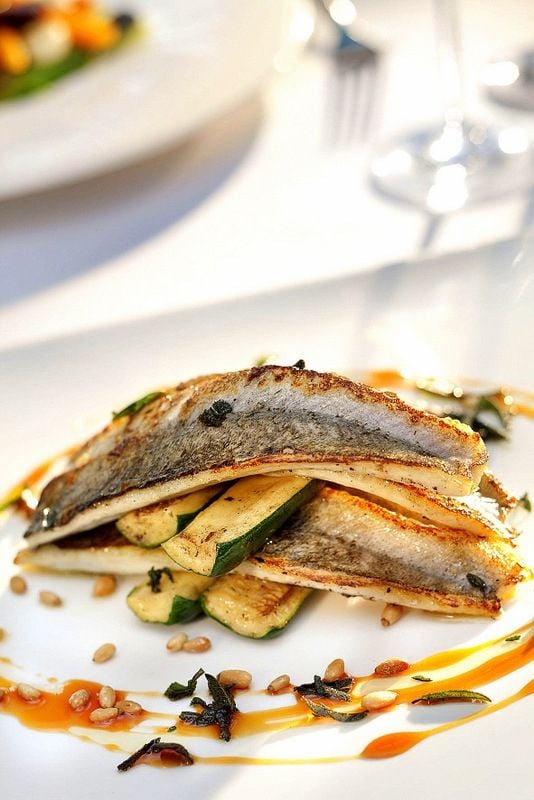 Asian
Located in Downtown Melbourne, Chinatown draws a big crowd during Chinese New Year celebrations with the authentic Chinese dishes on offer. Favourites within the local and Chinese communities include Flower Drum, Shark Fin Inn and Dragon Boat. Nearby areas Box Hill and Glen Waverley have become suburban alternatives to Chinatown, offering Pan Asian food including Cantonese, Malay, Vietnamese and Japanese delights at cheap prices. The Crown Casino area is home to a lot of Asian eateries with Silks (Chinese) and Koko (Japanese) being popular choices.
Between Chinatown and Swanston Street, there is an array of smaller venues offering Malaysian, Indian, Thai and Chinese cuisine, along with noodle bars in the innercity area. Queen Victoria Market supplies Asian fruit and vegetables and a there is also a nearby Asian grocery store to the market. The stalls on York Street sell Chinese roasted meats and handmade dumplings, whilst South Melbourne Market is renowned for its 'dim sim' (large steamed dumplings based on Cantonese Shui Mai). Cecil Street in the market serves up these Chinese delights along with Vietnamese cuisine. The largest Vietnamese market of the city can be found in Footscray, close to the district of Little Saigon in Victoria Street. Drenched in Southeast Asian culture, the area is easily accessible by train and definitely worth a visit. Suburban Springvale also offers a large Vietnamese precinct, with a smattering of Laotian, Thai and Cambodian eateries found here.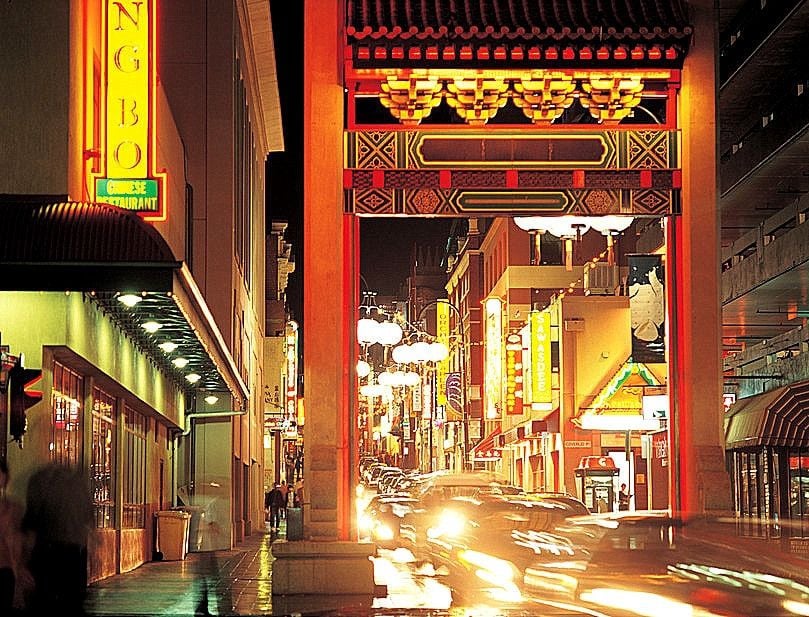 European
The Providore of Eurodore in Port Melbourne is a good place to start for European produce. Eurodore sells imported European produce as well as serving light meals, including the likes of French rabbit pie.  The Little Italy area of Lygon Street in Carlton is a touristic part of Melbourne offering Italian cuisine, gelato, coffees and a selection of sweets, with Brunetti's cake shop being a popular choice. A more Melbournian experience of authentic Italian dining can be experienced in Enoteca, north Carlton, where supplies, cooking classes and restaurants are all present. Johnston Street in Fitzroy provides a great range of Spanish food stores, restaurants and bars. For up market Spanish cuisine, head to Sotano Tapas Bar at the Hilton at South Wharf, or Anada in Gertrude Street, Fitzroy, for a more casual tapas and paella dining experience. Portuguese tapas can be found in Bar Lourinha, whilst truffle-related Spanish food is available at South Melbourne Market. Stalls in York Street sell an impressive range of European cheeses, cured meats, pastas, vegetables and sweets.
The Oliveria providore is dedicated to olive-related products, selling the finest products of Europe including olive leaf tea. An abundance of Greek dining can be sampled in Swan Street in Richmond or in the suburban area of Oakleigh. A small strip of Greek eateries can be found in Lonsdale Street, with cake shops and cafes. Contemporary Greek cuisine is available in downtown Melbourne and Port Melbourne, with restaurants including Hellenic Reublic and Nikitas. Alimentari in Fitzroy also offers a range of Mediterranean delicatessen items.
Eastern European, as well as kosher foods, can be found in Carlisle Street, St Kilda, and Glenhuntly Road, Elsternwich. Chopped liver, matza balls and schnitzels are available at Scherazade in Carlisle Street, whilst Hungarian dishes and schnitzels can be tasted at Budapest Palinka Bar on Glenhuntly Road. Queen Victoria Market houses 150 fresh-food stalls, where Greek, German, Italian, French and kosher delights can be savoured in the forms of cheeses, sausages, smoked meats and more.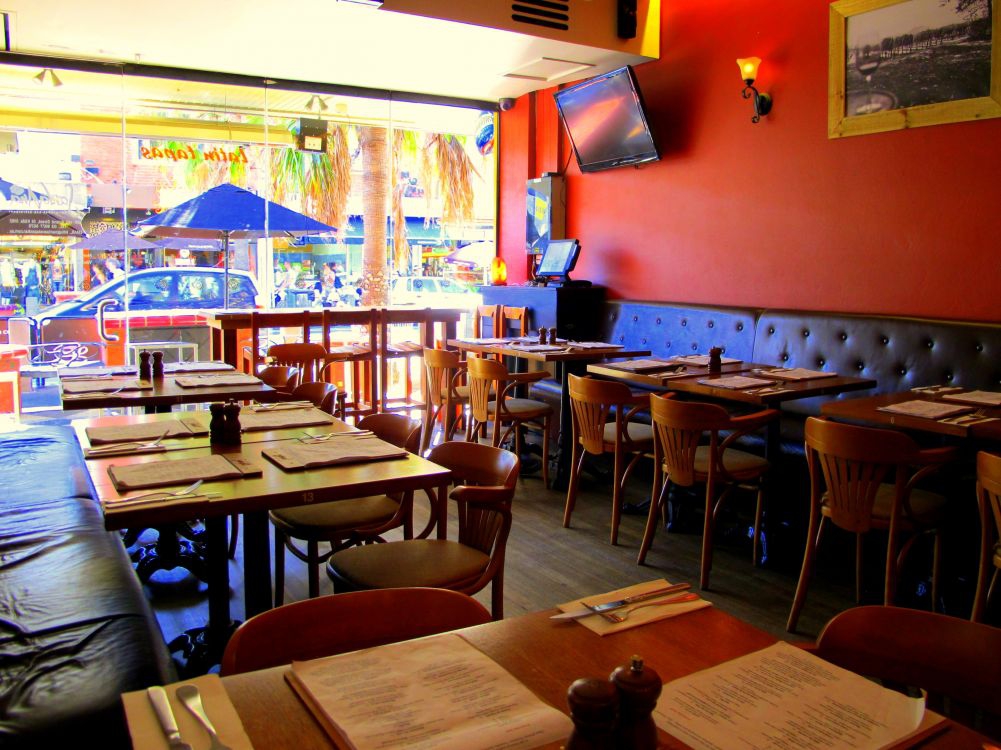 Middle Eastern and African
Middle Eastern and African cuisine is still fairly new in Melbourne and is, therefore, not yet as widespread as other types of food. With cafes, halal butchers, grocery stores, sweet pastries and breads, Sydney Road in Brunswick is the perfect host to Middle Eastern eateries. A1 Bakery provides a range of groceries including pomegranate molasses, orange blossom water, oils and freshly baked goods, which can all be enjoyed in their adjoining café. Balhas Pastry serves up a range of Lebanese cakes and is popular within the Muslim community in Melbourne. Mecca Bah, Rumi, Zum Zum and Arabesque are all great restaurants near the city business district, whilst Momo at the Grand Hyatt in Collins Street offers fine Middle Eastern dining.
With a recent influx in the popularity of African cuisine, particularly from Ethiopia, many great African eateries can be found in Melbourne. The most popular of the bunch is Nyala African Restaurant in Fitzroy, with Kamel Restaurant in Albert Park Moroccan Soup Bar in Fitzroy and The Abyssinian in Kensington being other well-known North African eateries. Whilst African eateries can be found scattered amongst Melbourne, the suburbs of Footscray and Dandenong have the best hidden gems. Footscray holds an array of African bakeries, groceries, restaurants and even a catering company providing food from the Horn of Africa. African Town, Awash, Café Lalibela and Harambe all serve up classic Ethiopian dishes, whilst Lentil As Anything features dishes from the whole continent. Mama Rosina's grocery and bakery store adds Ethiopian spices to their breads, whilst Mesnoy Injera Bakery sells savoury and sweet treats. Another top pick restaurant is Gibe African Restaurant in the suburb of Dandenong. Pre-packaged African meals can also be attained from the Queen Victoria Market, amongst other foods. 
Melbourne prides itself in its rich history of food and multicultural influence, and with the city becoming more widely known as a city for foodies, the cuisine it has to offer only gets better and better with time.