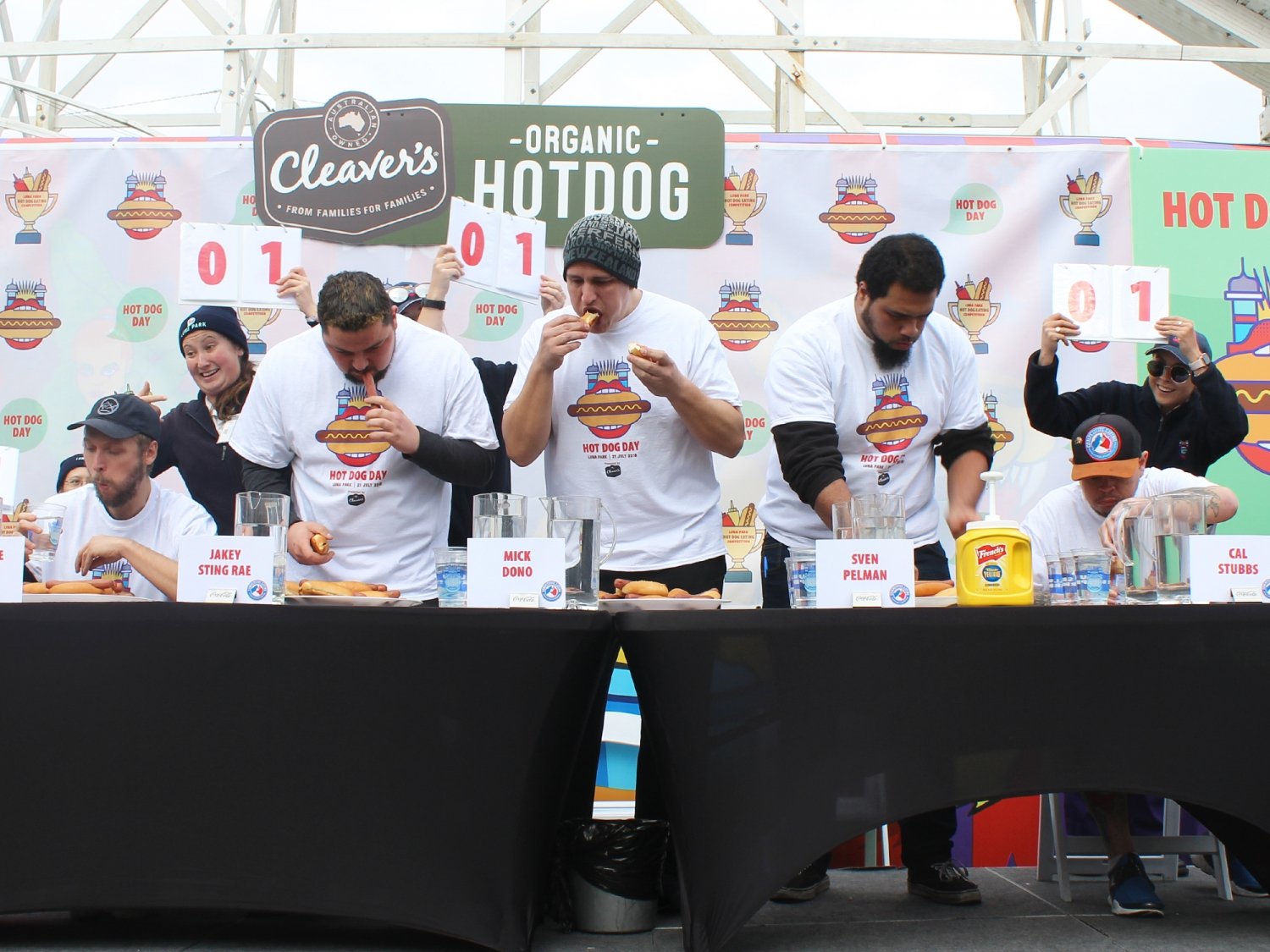 Hot Dog Day at Luna Park Melbourne
International Hot Dog Day
Sat Jul 20th 2019 at 11:00 until 18:00
---
18 Lower Esplanade

,

City Suburbs

,

St Kilda
https://www.myguidemelbourne.com/events/hot-dog-day-at-luna-park-melbourne
---
Luna Park
MAKE ENQUIRY
Event Details
International Hot Dog Day and marked in style at Melbourne's Luna Park as it hosts it's most competitive event of the year .. and you'd be a silly sausage to miss this fierce eating race !!

If you think of yourself as a bit of a hot dog devotee and would relish the chance to celebrate International Hot Dog Day, then head to Luna Park for its most plucky event of the year!

Melbourne's heritage amusement park treasure, Luna Park is a 'top dog' when it comes to creating fun and this year is no different as the preparations are underway to host its 6th annual Hot Dog Eating Competition on Saturday 20 July from 11am.

If you think you can stomach this gutsy competition–presented by Cleaver's Organic Beef Hot Dogs –grab your friends and get ready to indulge in all things hot-diggety-hotdog at Luna Park. If you are a spectator of this crazy hot dog gobbling action, make sure to take advantage of the Hot Dog Special Offer of 3 rides + 1 Cleaver's Organic Beef Hot Dog for just $27.50. These special tickets can be pre-purchased online, or at the ticket box on the day.

Billy Boyd, founder of Competitive Eating Australia, will be your MC for the day working the crowd into a pre-kick-off frenzy for both the men's and women's eating competitions encouraging spectators to choose their favourite 'chompetitor' and cheer them on as they battle it out.

The 'weiners' announced and crowned '2019 Hot Dog Eating Champions' by Billy will not only bask in the glory of eating the most hotdogs in 10 minutes, they will also each be taking home a prize of $400 cash, a Top Dog Trophy, plus an Annual Pass to Luna Park. Our runners-up will receive $250 cash and a Luna Park Annual Pass.

Throughout the day everyone will have the chance to enjoy rib-tickling roving entertainment, and a dance with our Hot Dog Mascot and friends as well as their share of spinning and squealing on our rides and attractions. Competitors and spectators alike can dance their buns off to LIVE performances of rock 'n' roll music from the 50s, 60s and 70s during the afternoon. So come on down to Luna Park for Hot Dog Day this year–it's the biggest and sauciest of its kind in Australia.

So if you're up for this whacky gig, head to our website where you'll find all the details.