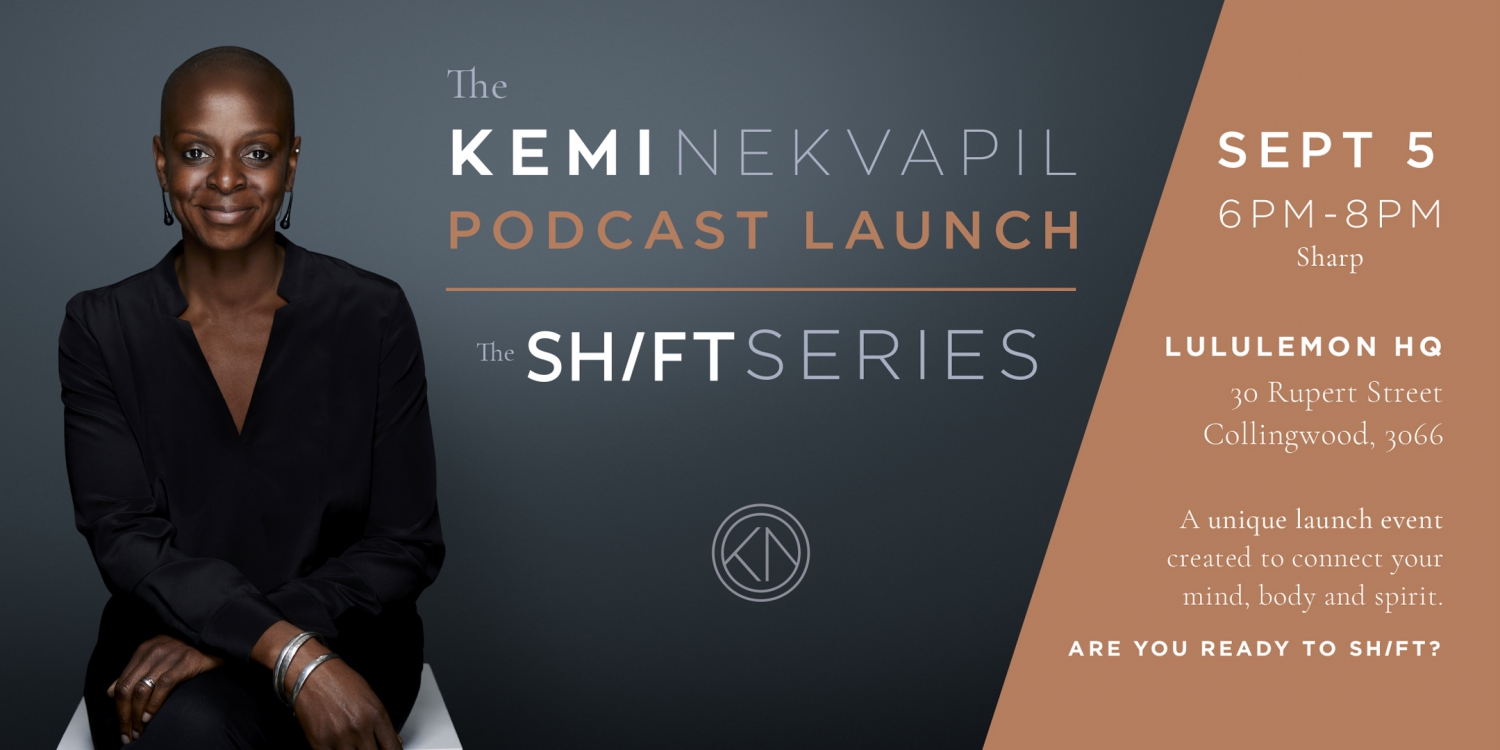 The Kemi Nekvapil Podcast Launch
Are you ready to shift?
Thu Sep 5th 2019 at 18:00 until 20:00
---
Melbourne
,

Lululemon HQ

,

30 Rupert St Collingwood

Melbourne
https://www.myguidemelbourne.com/events/the-kemi-nekvapil-podcast-launch
BOOK NOW
Event Details
This is one you should not miss.
The Kemi Nekvapil Podcast launch is an event like no other !!

It has been created to ignite your mind, body and spirit and introduce you to a new form of podcast.

If you have experienced coaching before, you know what a powerful tool it is for momentum and transformation.

The Kemi Nekvapil Podcast is for anyone with a device and internet connection. This means that many more people can experience the coaching process and use that process to shift forwards in their life.
On launch night Kemi will take you through a live version of the podcast so that you can experience the effect in real-time.

Reserve your place now - click

BOOK NOW

for on-line tickets

But it does not end there.

In partnership with Lululemon Athletica, Kemi has also created – The Shift Coaching Series – A 3-week in-person group coaching program.

For 3-weeks Kemi will coach you towards what you truly desire from yourself and your life.

There is nothing like a group of growth inspired people wanting to make the shift together; it creates momentum, accountability, community and fun along the way.
THE SHIFT COACHING SERIES w/ Kemi Nekvapil

· Week 1: Thursday - Sept 12th– Chapel street Store 7.30
· Week 2: Thursday - Sept 19th– Camberwell store, 7.30pm
· Week 3: Wed 25th - Sept – Chadstone Store, 7.30pm

4-weeks of live coaching for only $49
Kemi Nekvapil Speaker Reel 2018 V2 from Kemi Nekvapil on Vimeo.
More about Kemi here on social media.
Join Kemi and keep up to date on insights, challenges, musings and learnings on how to navigate life.via her
BLOG

Directions:
Click this link to

Google Maps

for transport options and directions to the event.