The Great Ocean Road 'GOR'
Snaking its way through some of the most spectacular landscapes in Victoria, the Great Ocean Road stretches 243 kilometres between Torquay and Warrnambool. Journeying along this winding road by car, you feel like you are in the lap of nature; the Great Ocean Road takes your 'great outdoors experience' to another level. The biggest war memorial in the world, the Great Ocean Road was built by soldiers in memory of the brave who lost their lives fighting in First World War.
Traversing along the Great Ocean Road near Port Campbell, you are greeted by huge and striking limestone formations rising out of the ocean. These naturally occurring structures are the 'Twelve Apostles' that you just cannot miss. Even better if you are a photography enthusiast - these majestic landmarks are a valuable addition to any professional portfolio or personal photo collection.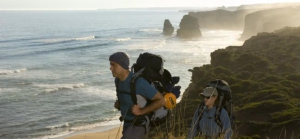 National Parks
The Great Otway National Park is home to lush temperate rainforests and many tranquil waterfalls. Relax by a waterfall and embark on an exciting walk along the Great Ocean Walk, which has become the number one destination for backpackers and hikers to the region.
Walking along this104 km stretch, you discover a number of scenic and natural attractions, from the historic lighthouse at Cape Otway and the mind-blowing rock patterns at Moonlight Head to the pristine shoreline of Blanket Bay and its ancient ruins.
Wildlife Experiences
If you want to interact with Australia's best-known creatures you have come to the right place!
Between Apollo Bay and Port Campbell is Fauna Australia Wildlife Retreat, where not only can you see koalas, kangaroos, wallabies and wombats, but also feed them.
A fantastic sight is that of thousands of glow worms lighting up the embankments of Kennett River - a night walk along Marriner's Falls, Melba Gully and Apollo Bay really hits the spot!
Australian Tree top adventures at the Otway Fly Tree Top Centre this is a must for you adrenaline junkies...
Whale Watching
Victoria's best whale watching experience awaits you at Logan Beach in Warrnambool.
The breeding season between June and October sees whales making their sea journey to Australia's southern coast to give birth; and over several years now, Logan Beach has become a favourite spot for female whales!
Picnic and BBQ
Along the Great Ocean Road, there are several excellent picnic spots.
The foreshore area of Torquay, the Aireys Inlet (ideal if you have kids as there's a nice park), Melba Gully with its gigantic 300-year old Big Tree and Sheoak Picnic Ground with its barbecue facilities and proximity to waterfalls, are some great places to relax with your family, or a surfing weekend for the boys.
Fine Dining and Wine
Sampling the rich produce of this region should definitely be on your 'must-do' list.
Besides the fine food and warm reception at the many cafes and restaurants in the region, you can get a taste of some delicious wine at Henty, Timboon, Colac and Apollo Bay, Gourmet cheese at Cooriemungle, mouth-watering berries in Heywood and Deans Marsh farms, and of course fresh seafood in any of the region's seaside towns.
MORE INFORMATION
Image Courtesy: Getty Images/Tourism Victoria

Discover the Great Ocean Road with My Guide Melbourne car hire partners