How do you get around Melbourne?
Adventure
Metropolitan Melbourne offers comprehensive public transport options with trains, trams and buses.
Metropolitan Melbourne offers comprehensive public transport options with trains, trams and buses.
Extending from the CBD out in all directions, Melbourne's public transport network will help you explore this wonderful city.

A must for any visitor is to travel the famous Melbourne tram network which operate all over the greater Melbourne Metro area and it's rolling stock varies from the brand new, up to date trams to the more traditional timber carriages that have been in operation since 1889. Here's the map to the tram network .
Don't forget .. trams are only free in the FTZ (see below) and outside of this a MYKI (also below) is required. There are tough penalties for travelling without payment and you'll regularly see inspectors either at tram stops or actually travelling on the trams.
Melbourne trains are efficient and affordable, with train lines stretching across the city, suburbs and into regional Victoria. This is a good way to get to places such as the Melbourne Zoo or Melbourne University. The exciting Southern Cross Station is an attraction in itself, as is the historical Flinders Street Station.

The FREE Tram Zone operating in the city and now to Docklands is the best way to get around and not spend a penny going to the popular tourist spots within the CBD. Click here for details of the FREE TRAM ZONE
Melbourne also has a SkyBus service which runs from Melbourne Airport to most inner city hotels and hostels. Find out more information directly from SkyBus.
How to buy a ticket
The ticket system is the same for all buses, trains and trams in Victoria and uses the MYKI (pronounced My Key) system or the older Metcard system.

To buy your MYKI passes, visit any MetsShop, Melbourne Visitor Centre, Premium Stations, such as Flinders Street Station and Southern Cross Station or on-line via the above MYKI link. Topping up can be done from the ticket machines at some tram stops and bus stops.
Fares for travelling on Melbourne's trains, trams and buses are separated into two zones: Zone 1 for the CBD and inner-city and Zone 2 for the middle and outer suburbs.

Metro Train Network Map
Plan your journey by clicking here on the PTV Planner
See the complete timetable search here ->  Metro Melbourne Time table
Ready to book or know where you're going? Book your tickets HERE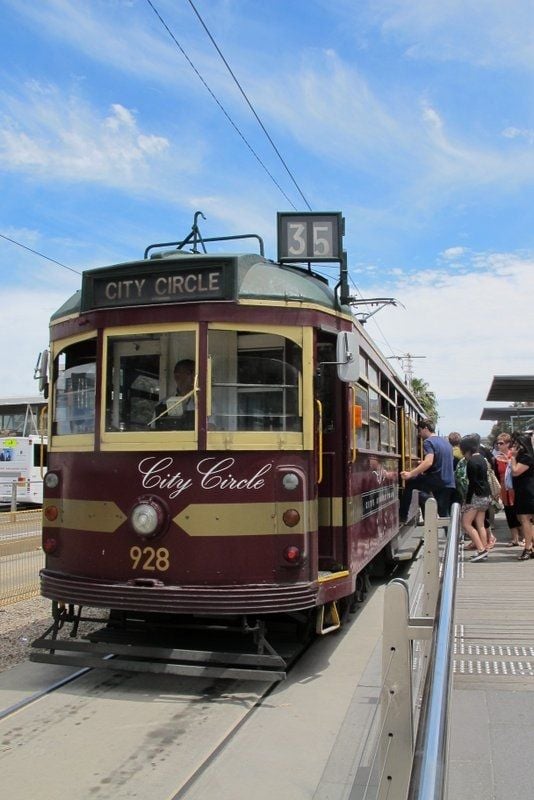 The Melbourne City Tourist Shuttle is a popular, free bus service which takes approximately 1.5 hours and includes an informative on-board commentary as you travel around Melbourne.
Hop on and off the bus at any of the following stop locations:
1.    Arts precinct
2.    Federation Square
3.    Sports precinct
4.    Chinatown precinct
5.    Melbourne Museum and Carlton Gardens
6.    Lygon Street precinct
7.    University of Melbourne
8.    Queen Victoria Market
9.    Waterfront City
10.William Street
11.Southbank and Yarra River
12.Shrine and Royal Botanic Gardens
Buses

SmartBus is a network of bus services in the city of Melbourne, Australia. Overseen by Public Transport Victoria, the network comprises nine key cross-town and orbital bus routes around Melbourne.

Map of the SmartBus network, please click here -> SmartBus Network

Travelling further afield?

Here's the Regional Train & Coach Network Map

There are so many different ways to see the wonderful city of Melbourne, but the best way to get around is to use public transport. It is safe, easy to use and, best of all, it accesses such a large part of the state. One day you could be walking the cafe lined streets of Prahran and then the next you could be having Devonshire Tea and Scones in the lush Dandenong Ranges.