Melbourne's Zoos
Adventure
There are three marvelous zoos in and around Melbourne. Each differs significantly from the other.
There are three marvelous zoos in and around Melbourne.  Each differs significantly from the other. One near Melbourne city in Parkville boasts an impressive range of animals, with more than 320 species that animal enthusiasts will be enthralled by. Out in the west, at Werribee there is an African wildlife park, and situated in the north at Healesville there is a sanctuary for Australian native animals.  Melbourne's zoos are very committed to wildlife conservation and the enclosures at these zoos are designed as naturally as possible to give the animals a realistic and comfortable habitat.
It is possible to buy a zoo pass that allows entrance to all three zoos.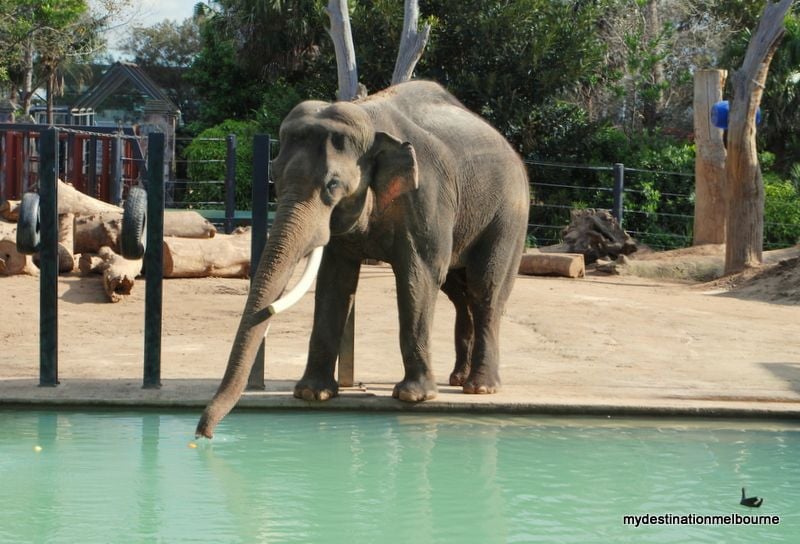 CITY ZOO
Close to the city centre, Melbourne zoo has been part of the city for over 150 years.  Like many zoos containing a variety of interesting animals, this zoo has been transformed by new enclosures that are far more animal friendly than the historic and depressing old cages of zoos of the past.  Animals and people enjoy the excellent transformation that has created an exciting and interactive environment.
The highlight of this zoo is the elephant enclosure, where the atmosphere is decidedly Thai. Other animals from the Asian region enjoy this regional emphasis too and the orangutans seem to relish an indoor area for warmth in winter.  An outdoor arena with plenty of tree top opportunities for swinging about gives a great vantage point where visitors can join them on a tree top walk.  Rounding a corner through a natural bamboo tunnel, you may come upon the tigers that have just been given some cardboard boxes to play with, tearing them apart to find treasures inside. 
Don't miss the aquatic area, 'Wild Sea', where seals can be seen through glass, diving and rollicking underwater, and then visit them at ground level to watch them beach themselves on the sculptured rocks.  The enclosure has been engineered to provide realistic waves of water that surges at different intervals to create a simulated seashore habitat. 
For small children aged between 3 – 8 years, the new 'Growing Wild' exhibition is a must.  With tunnels and sculptures as well as close up experiences, this area is designed for children to discover an early love for wild creatures.  Scuttling at ground level, emerging to look out of a giant tortoise shell, children can imagine what it is like to be one of these animals, or join the meerkats as they patrol their domain.
Melbourne Zoo, minutes from the city:
Open daily: 9 – 5pm.
Tram 55 goes directly to the zoo, leaving from William Street.
By train, take the Upfield line, with a station outside the zoo.
By car, there is ample parking. 
Elliott Avenue, Parkville – Melway ref: 43 E1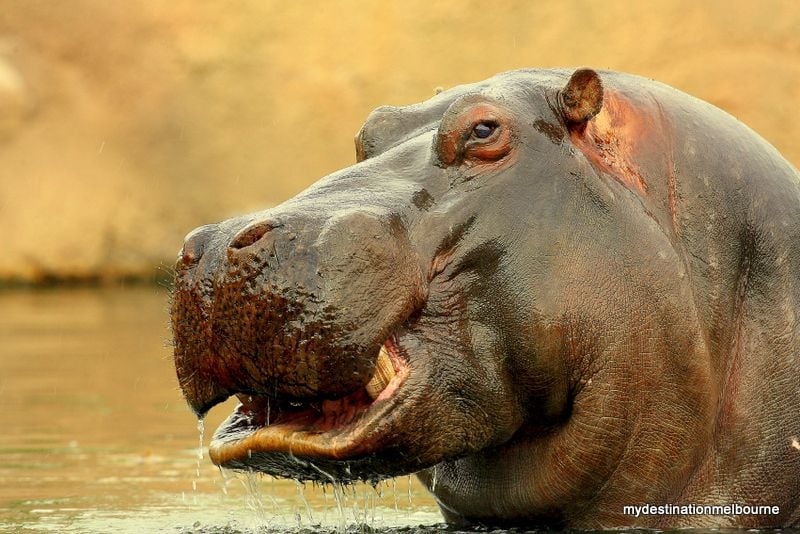 WERRIBEE OPEN RANGE ZOO
On an area that was previously owned by Melbourne Zoo as animal pastureland, is a beautifully laid out African safari park.  It seems an unlikely attraction for Melbourne, but it has been developed into one of the most popular experiences for both locals and visitors.  Situated 35kms west of the central city, it is a 30 minute drive on the Princess Highway.
The vast area has been designed as a similar environment of natural habitats for African and Asian animals. Instead of seeing these animals enclosed in small confined spaces they roam around freely, some species such as the zebra, and giraffes share grasslands with the rhinos, just as they would in the wilderness of Africa.
Included in the zoo entrance ticket is a safari bus tour.  For those who want to pay for an even closer experience, it is possible to ride in an open vehicle.  Either way, the adventure, riding on a tour that takes around 45 minutes, is lots of fun.  Animals approach and if you are fortunate, you could have a giraffe inquisitively come right up to the bus window, or a rhino rub against the vehicle like a welcome friend. 
The driver shares knowledge about the zoo and the animals and offers advice on how visitors can best enjoy their time at Werribee Park.  For those wanting an even closer safari experience, there is the option of staying overnight and breakfasting with the meerkats.
After the tour, there are still plenty of animals to see and many head off to view the lions.  A cleverly designed glass window divides the formidable hunter from what must look like delectable prey.  Sit in the driver's seat in a jeep, positioned for an unforgettable photo, when the lion on the other side of the glass obligingly leaps onto the bonnet, or strolls past just a meter away.
Encountering the gorillas seemingly roaming freely is exciting as like most other parts of the park, the enclosures are created with invisible barriers between you and the wildlife. The gorilla exhibit is one of the largest in the world.
The landscape equipped with a replica African village, complete with jungle noises, is fun and educational.  Wander along the boardwalk to see the hippos close up, wallowing in the mud or sunning themselves beside their pool.  Kids can join the water fun with interactive fountains.  Just make sure you have a dry set of clothes for them and a towel!  A visit to Werribee Zoo will certainly not disappoint.
Werribee Open range Zoo
Open 9 – 5pm.  Gates close at 3:30pm for entry.
By train, take the Werribee line to Werribee Station.
Bus 439 connects the train from the station to the zoo.
A shuttle bus leaves from the National Gallery of Victoria on St Kilda Road.  It leaves at 9:30am and is run by Squires Coaches.  Bookings are essential.  To book, Ph: (03) 9748 5094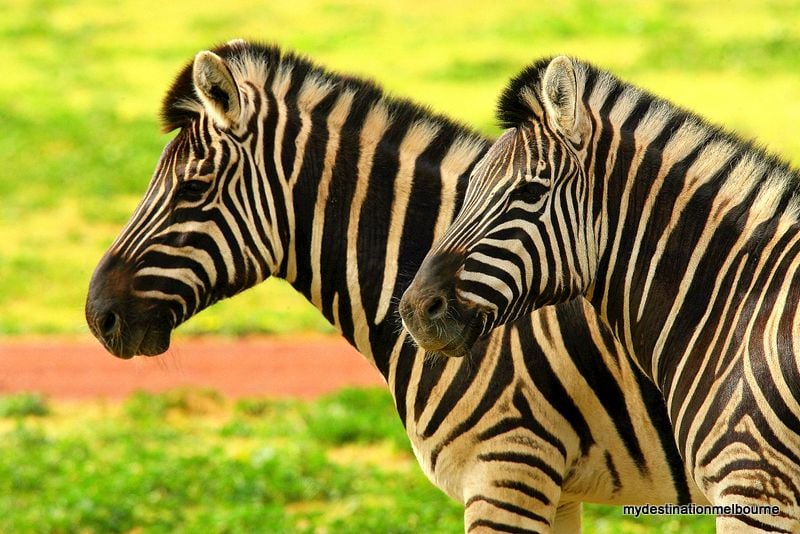 HEALESVILLE SANCTUARY
Seeing the unique and wonderful animals that are native to this land is top of any visitor's list. Healesville is an excellent way to see many of the animals in a natural environment and learn about their charming characteristics.  It is approximately an hour's drive from Melbourne, located 65 km from the city in the Yarra Valley area.
The sanctuary is more than a zoo as it includes set times to meet the keepers who explain about the animals, and then demonstrate their attributes, such as at the very popular birds of prey 'Spirits of the Sky' show.  For a close encounter with the talons of an eagle, sit just below one of the resting pads at the back of the theatre.  It's advisable to get to the outdoor arena early, as seats can be filled to capacity before the show begins.  For the best seats in the show, sit close to the grassed area, and watch the skill of both the birds and their trainers.
Healesville is one place where you can be guaranteed to get close to koalas, wombats, kangaroos, see pelicans catching their meal for the day, and wander through a wallaby enclosure.  Marvel at the odd little platypus and learn about the endangered Tasmanian devils.  Find out about dingoes and meet a curious emu.  Conservation is very important at Healesville Sanctuary in order to educate and protect native Australian species.
One interesting part of the visit is to go to the wildlife hospital that is within the premises of the park.  Here more than 2,000 animals are treated on a yearly basis.  If the hospital is operating, you may get to view the vets as they treat an animal in the emergency rooms, or observe animals recuperating.  Static and interactive displays are inspiring and educational, allowing visitors to learn about species that are under threat of extinction, and how Australian wildlife is affected by floods and fires, and their ability to survive often in extreme and baron conditions.
The park itself is a beautiful bush trail and like all of Melbourne's zoos, there are restaurants and areas suitable for picnics.  Just make sure the ibis' don't steal too much of your lunch! 
Healesville Sanctuary
By train, take the Lilydale line. 
Bus 685 or 686 connects the train to Healesville.  You may need to change buses to get to the sanctuary.  Your driver will tell you if this is necessary.
As it is a long drive out, tours may be the best option if you don't have a car. 
For information on ticket prices, news and events visit: zoo.org.au/