Wake up and Smell the Coffee in Melbourne
Food & Drink
The first espresso machine in Melbourne was installed in the Universita Café on Lygon Street
Melbourne is known for great restaurants and enough cafes to give you a new experience day after day, from city laneways to urban and suburban. It seems new ones sprout up between chic shops or dusty grey concrete warehouses, like irrepressible wild plants.
To the coffee purist, cafes must prove their worth. A good barista will understand the difference between high-country, hand-picked Arabica beans, and machine harvested Robusta. They will know which countries have the best soils and climates and what roasts and blends are about and how coffee can be brewed to produce that perfect cup.
Good cafes in Melbourne are serious about their coffee. Like those who know their wines, sophisticated coffee connoisseurs who find coffee worth talking about let others in on their favourite haunts. There are so many places worth mentioning but here are a few that are worth hunting for.
The first espresso machine in Melbourne was installed in the Universita Café on Lygon Street in Carlton. The Italians who had migrated in the 1950s and 1960s gathered to enjoy this popular café near Melbourne University. The original espresso machine is mounted above the front window of this ever popular restaurant.
Around the corner in Faraday Street, the Italian population, among others, has discovered the busy café and cake shop, Brunetti Carlton. Giorgio Angelé first came to Melbourne in 1956, as the pastry chef for the Italian Olympic team. He loved the city and returned a few years later to start a small Italian café. It outgrew the small shop and now, the barista station, manned at times by four staff members, serves hundreds of cups of coffee from breakfast through to late at night, every day of the week. The hot chocolates are wonderful as are the affagato coffees – good, strong coffee, poured over ice-cream. 
Just outside the Queen Victoria Market in the strip of shops facing the tram station is the well-known coffee shop, Coffea. Coffee is roasted on the premises and served as well as sold in a range of blends. The shop also stocks equipment from Bialetti to Bodum, for brewing. 
One of the most iconic espresso cafes in the CBD is Pelligrini's at the top of Bourke Street. The old wooden menu never changes, along with the comforting, authentic homemade Italian food.  Coffee is served with pride and, if you are lucky, you can choose to sit in the kitchen and watch pots of pasta cooking. Or, if you are there on a Saturday, you can watch in delight as Italian brides and their bridal parties arrive in limousines to cram into the tiny narrow café for traditional photos. The aroma of coffee from the espresso machine invites you to enjoy a cup here.
Outside the city, a coffee hunter can find numerous cafes, some roasting their own beans and others perfecting the art of producing wonderful aromatic cups of coffee.  Some of the best of these finds would be:
In North Melbourne, the Auction Rooms roast their own coffee and serve superior beverages and great food, in a light and airy restaurant. The décor is industrial and fashionable. This café has won media accolades for serving the best consistent coffee in Melbourne.
On the other side of town in Collingwood, just off Smith Street, is Proud Mary. The café is on the corner of an industrial building which has now been transformed into chic apartments. You may have to queue to get into this fairly recent addition to Melbourne's great eateries and coffee roasters. The espresso machine itself is almost as impressive as the long list of beverages on the menu selection.
Venturing into Balaclava, visit The Wall. The atmosphere is reminiscent of a back street in Europe.  People sit on a bench in the sun, or at tables outside by a graffiti splattered brick wall and inside the café a sign hangs from an old kosher butcher shop. People buy coffee from the hole in the wall or enjoy good wholesome food and great coffee and watch the collection of people as there is always a steady stream of customers. 
A true secret find is in the suburb of North Balwyn, in the Greythorn Village. It is a small café called Romeos. It concentrates on good coffee and offers just a few sweet cakes and biscuits to accompany it. It is named after the owner Stefano Romeo who brought a custom made roaster from Italy to produce and sell some of the best coffee available in Melbourne. Customers travel from all over the city to come to this hidden coffee hunter's haven.
Not far from Romeos, Doncaster shopping mall dominates a high position in the busy East. Shopping malls are not generally expected by coffee geeks to hold any hope of notable coffee shops.  But this mall is an exception with Coffee Max open just by the main entrance. Domenico Crivelli is the third in a generation of coffee roasters.  His father, Dino, is an icon of coffee culture in Melbourne with his Coffee Max store in Camberwell and a history of over 50 years of understanding coffee. They know their crema, and they know how to make coffee as good in taste as any to be found.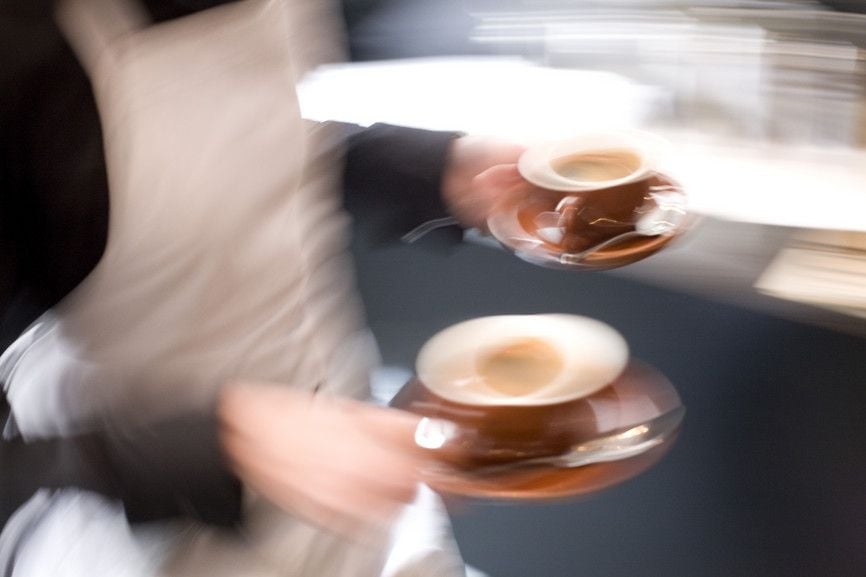 Seven Seeds café in Carlton roasts an impressive range of beans and creates blends with great tastes and textures. Connected to Seven Seeds and supplied by the Carlton roaster, are two other cafes.  One is in the city on Little Bourke Street, called Brother Baba Budan, the man attributed with having smuggled the first beans out of Ethiopia to be planted elsewhere in the world for the first time. 
The third café in the group is De Clieu, another café named after a man who took beans on a historic journey from Paris to the French Caribbean. This Fitzroy café is popular for their afternoon tasting events that they call 'cupping', where a skilled barista prepares a blend and informs customers about the coffee.
Love Rebecca's account of Melbourne's top cafes? You may find the following useful!
University Café
257 Lygon Street,
Carlton 
Brunetti Carlton
194 - 204 Faraday Street
Carlton
Coffea Coffee
519-521 Elizabeth St, Melbourne
Opposite the QVM tram stop
Pellegrini's Espresso Bar
CBD
66 Bourke St 
Melbourne
Auction Rooms
107 Errol St 
North Melbourne
Proud Mary
172 Oxford Street 
Collingwood
The Wall
280 Carlisle St
Balaclava
Romeos
319 Doncaster Rd
Balwyn North
Coffee Max Westfield Doncaster
Store 1008
619 Doncaster Road
Seven Seeds
104 – 106 Berkeley Street
Carlton
Brother Baba Budan
359 Little Bourke Street
CBD
De Clieu
187 Gertrude Street
Fitzroy