Melbourne Cup
Melbourne
the race that stops a Nation
Whilst officially only a public holiday in Melbourne and Victoria, this is the race that really does stop the Nation as Australia tunes in and watches a field of the best horses in the world compete on a 3200 metre chase to win or take a place in one of the world's most notible events.

Held at the Flemington race course, just west of the city and a short cab ride for the 100,000 race-goers who turn up to party for a whole day's racing, the Melbourne Cup race being the focal point starting at 3.00pm.

Australia's richest race with $7.75 m in total prize money with the cup winner taking $4.4 m of that. Just coming in 9th will earn the horse owner $160,000 but it's a tough race and every horse competing undergoes stringent preparation and testing before being passed fit enough to compete.

The Melbourne Cup is an 18-carat gold trophy and is worth $150,000 but the winning is the real reward for jockey, owner, trainer and stable hands that put months and years into training these wonderful horses to perform in the top-league of flat racing.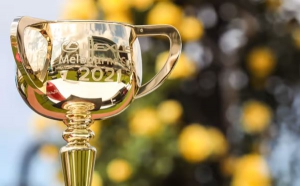 As you'd expect, the Australian public is prone to the odd punt and the majority of them will put on a bet and cheer their favourite on whether the bet has been made by studying form; the most successful trainer; the horse has a nice name, the most colourful jockey outfit perhaps or maybe even a blind-fold and pin 'on the donkey' so to speak. Another way to select is by barrier position at the start and this is determined by a draw but can seriously effect the betting odds. It's also a handi-cap race with weight added to each horse according to performance to try and even out the running and making it even more exciting.

Click HERE for on-line tickets and to avoid the queues.
Whichever way you select your favourite, the important thing is to join in the fun and watch either at the course, in the pub or with friends at a barbie perhaps.
Here's the weather forecast for the race and rain will make a big difference and possibly an unexpected, outside winner.
Good luck to everyone and here's the current field for your selection pleasure.
2022 Melbourne Cup - The Final Field
FINAL FIELD (with barriers)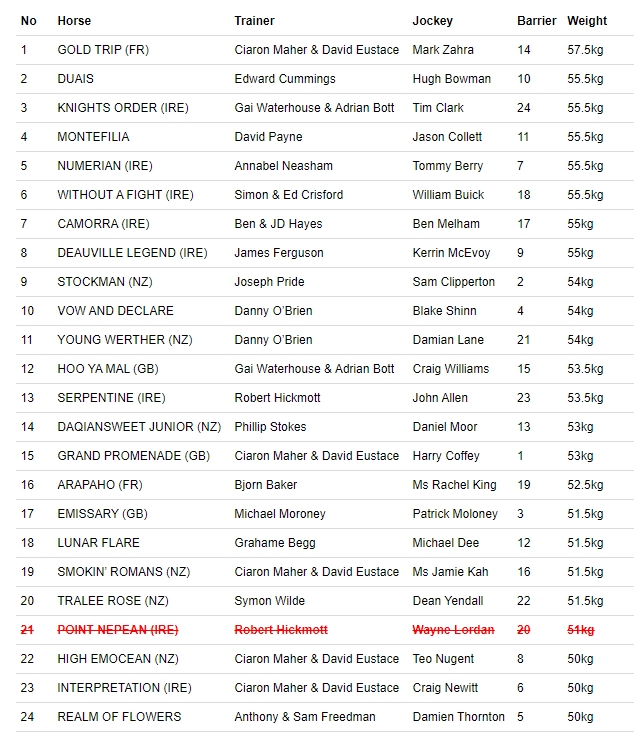 * Correct at time of going to print and subject to change at any time.
Please gamble responsibly.
Field courtesy of JustHorseracing.com.au